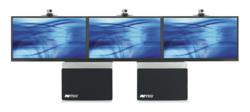 (PRWEB) July 01, 2011
AVTEQ, Inc., a leading manufacturer of videoconferencing carts and mounts, introduced a modular Telepresence solution at InfoComm11, the leading trade expo for the A/V industry. The AVTEQ Elite ELT-2000 joins AVTEQ's new Technology Conference Series, an extensive menu of high-performance videoconferencing furniture products offered through IT integrators, distributors and dealers servicing business, government, and education environments.
"We are excited to present an industry first as part of our new Technology Conference Series; the AVTEQ Elite ELT-2000 is the first flexible A/V solution that will support up to 70" displays in such an attractive, décor-friendly package," said Wes Burkett, vice president of sales and business development for AVTEQ. "In addition, the product gives customers maximum flexibility with the choice of multiple configurations."
The AVTEQ ELT-2000 can be configured with single or dual displays up to 70" for the videoconferencing space, or deployed as a Telepresence application with three screens and multiple modular units. The stand has a 19" vertical rack mount bracket with 10RUs of space. A 20" slide-out rack provides ample storage space for conferencing systems, and like all AVTEQ products, the ELT-2000 is packed with the most standard features on the market.
The innovative products of the Technology Conference Series pair executive styling with efficient A/V storage and usability. Other newly released products in the series include credenzas with integrated flat screen mounts, conference table tops, and multimedia Communications Pedestals—all designed to integrate the A/V and multimedia equipment into the furniture itself in order to enhance the business conference environment.
About AVTEQ, Inc.
AVTEQ, Inc., located in Dallas, Texas, is the largest manufacturer of videoconferencing carts in the industry and regarded for cost-efficient, all-inclusive products that do not require accessories and upgrades to be practical and efficient. AVTEQ has become the preferred choice of hundreds of Global 1000 and Fortune 500 clients because of unmatched quality, service and product innovation. AVTEQ stocks a full line of A/V and digital signage support products, as well as custom develops and designs solutions for unique videoconferencing, business, and retail applications. AVTEQ is an 8(a) woman-owned, HUBZone certified firm and holds several GSA contracts, which allows the manufacturer's videoconferencing cart and mount products to be sold to federal buyers.
# # #