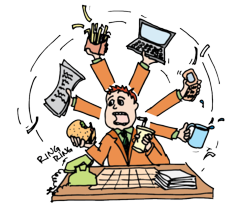 Since Spanish speakers are such a large and growing portion of the American workforce, it makes perfect sense to build a great stress management solution for them.
Springville, UT (PRWEB) July 07, 2011
Strategies for Stress Relief, an innovative set of digital coaching sessions are now available in Spanish, the second most-used language in the United States.
In 2010, there were over 50 million Hispanics in the United States, or 16 percent of the total population. In the previous 10 years, this segment of the population grew by 43 percent, accounting for more than half of the overall U.S. population increase during that time.
Hispanics are also the fastest-growing segment of the American labor force. In the year 2000 11% of the U.S. labor force was Hispanic; by 2050, almost 1 in 4 workers will be Hispanic (U.S. Bureau of Labor Statistics).
The most populous states in the country, and some of its heaviest economic contributors have high Hispanic populations. In eight U.S. states Hispanics are more than 16 percent of the population: Arizona, California, Colorado, Florida, Nevada, New Jersey, New York and Texas. Although the percentage is smaller, Illinois has more than 1 million Hispanic residents.
One common denominator for all American workers is stress. In the workplace, stress is the primary cause of long-term absences and a significant factor in short-term absences. According to one study, stress is the number one reason people leave their jobs. Almost half of all U.S. employers say stress is affecting business performance. Not all stress is bad, however. Healthy doses of stress can motivate people to action and increase productivity. The trick to managing your stress is finding a healthy balance that keeps people motivated without overwhelming them.
Allen Tietjen, CEO of MyExpertSolution, says, "Everybody can benefit from our Life Skills coaching tools, and we decided that since Spanish speakers are such a large portion of the American workforce that it makes perfect sense to build a great solution for them." Tietjen adds, "we know that many Spanish-speakers in the U.S. are also fluent in English, but we wanted to make sure anyone using our sessions had the option of using the language that makes them most comfortable."
English and Spanish versions of our evaluation are available online. Anyone can take the evaluation. The digital coaching sessions are available to subscribed members.
MyExpertSolution is a provider of digital coaching tools that help people improve their life skills. Headquarters for this creative new company are in Springville, Utah. To find out more about the Digital Life Skills Coach, visit http://www.MyExpertSolution.com, or email info(at)MyExpertSolutioncom.
Join our community on Facebook.
Press contact:
Phil Karren
pkarren(at)myexpertsolution(dot)com
435-817-7219
###