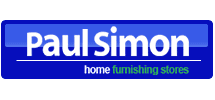 We are really pleased to be able to respond to customer feedback and implement our carpet department into more of our 51 branches.
(PRWEB) July 01, 2011
One the UK's largest home furnishing chains has announced that they intend to roll out their carpet department to more of their branches across Britain.
Paul Simon, a leader in Britain's home furnishing market, has said today that this intended expansion has come after a very successful trial in one of their branches.
Since March 2011, the Watford branch of Paul Simon have been trialling a carpet department, offering customers a wide range of patterns, colours and prints, in multi widths from 2 to 5 metres. Customers have been able to choose from a wide range of well-known brands such as Wilton Royal and Axminster carpets, along with Balterio laminate flooring and IVC and Tarkett vinyls.
The carpet department in this store has been thriving, leading to responses from customers asking for them to be available in more of Paul Simon's branches across the UK. Customers will be able to check which stores the new departments are in, by heading to the store locator online. The home furnishings store is always on the lookout for new, great quality, affordable home furnishings, sourcing these new carpet designs from the North of England.
Lee Learner, Purchasing Manager said: "We are really pleased to be able to respond to customer feedback and implement our carpet department into more of our 51 branches. Admittedly, we were unsure how our customers would react to this new range, but we are happy to say that the response has been good. The carpets that we offer are of the best quality, with many boasting great features like non-stain and anti-static.
We are always looking to ensure that our customers get the best deals in home furnishings and this is shown in the fact that our carpets start from as low as £4.99 per meter for synthetics. We also offer free fitting, if an underlay is purchased. Not only this, but in most cases, within days of placing your order, you could have your carpet delivered and fitted in your home. "
Since their launch 21 years ago, the home furnishings giant has won Independent Readymade Goods Retailer of the Year and Soft Furnishings Retailer of the Year. This carpet addition is another increase to their product range, which they have been building on since their launch. They have also added to their home furnishing stores and online – beds, furniture, rugs, linen and blinds, all at affordable prices.
Notes to editor:
Paul Simon is an award winning Home Furnishings Store, launched in 1990.
Their 51 branches across the UK are open 7 days a week.
Paul Simon offers one of the biggest ranges of curtains, beds and blinds in England.
###