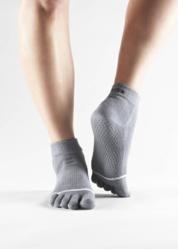 The mission of [Sox for a Cause] is to support community and work with like-minded companies and organizations.
Vista, CA (PRWEB) July 06, 2011
California-based socks company ToeSox started a charitable giving program called Sox for a Cause. The mission of this project is to support community and work with like-minded companies and organizations. Its first project took place last year when ToeSox launched a one month Buy 1 Give 1 retail campaign supporting Soles4Souls, a Tennessee-based organization dedicated to helping those in need. The result of the effort was a donation of more than 400 pairs of socks. A year later, ToeSox relaunched the month-long campaign and doubled their contribution and shipped more than 800 pairs of socks to Clothes4Souls, the apparel division of Soles4Souls.
"The focus of 'Sox for a Cause' is to help the community at large," says ToeSox President Joe Patterson, "we are ecstatic to be working with this organization again."
Soles4Souls collects shoes from the warehouses of footwear companies and individuals and distributes these shoes to people in need hoping to change the world "one pair at a time." Since then, Clothes4Souls was created to give clothes to people around the world who are in desperate need.
In addition to supporting Clothes4Soles, the ToeSox 'Sox for a Cause' program also supports the mission of Poses for Paws and Susan G. Komen 3 Day for the Cure through its sales of specific toe socks. To learn more about Sox for a Cause and other organizations they support, please visit http://www.toesox.com.
ToeSox, Inc. was founded in 2004 with the launch of its patented Non-Slip Grip sole, and has since grown from a home-based business to selling various styles nationwide and to 32 countries. ToeSox come in full-toe (with and without Non-Slip Grip) and half-toe sock styles, and are available in 10 different colors. The five-toe socks are used for yoga, Pilates, martial arts, dance, walking, cycling, as well as post- pedicure. ToeSox are made with 100% organic cotton Visit ToeSox at http://www.toesox.com or call (877)486-3769.
###