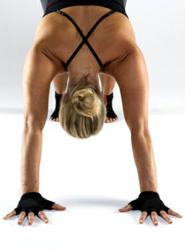 The socks offer a hygienic alternative to bare feet so travelers can have peace of mind where their feet are.
Vista, CA (PRWEB) July 13, 2011
Because yoga is one of the fastest growing fitness activities in America today, ToeSox annouces the creation of a matless yoga practice with their grip socks and grip gloves. In 2008, 16 million Americans practiced yoga and the interest is continuing to grow as people are valuing the importance of stress management and wellness. Yoga does not require a lot of gear for practice. However, when traveling, yoga mats are not only bulky, they also add a couple pounds to the luggage weight. ToeSox, a company known for its Pilates and yoga toe socks, suggests pairing their grip socks with their grip gloves so yogis of all levels can stick to their practice while on vacation. The gripping technology of their products offers superior grip on any surface anywhere - airport, hotel room, poolside. Additionally, the socks offer a hygienic alternative to bare feet so travelers can have peace of mind where their feet are.
While yoga is an obvious use of the ToeSox fitness products, their grip socks are also used for dance, Pilates, and martial arts. The flexibility of sticking to a fitness routine while on vacation will help reduce stress, maintain proper posture, increase circulation and reduce muscle tension during travel.
While travel may have suffered over the past couple years, experts claim a change in behavior is coming. A 2010 article by hotelmarketing.com predicted that 36 percent [of Americans] plan to spend more on leisure travel in 2011. Ninety percent plan to take two or more leisure trips in 2011. Couple the travel trend with an increased interest in yoga, and it makes sense that ToeSox grip socks and grip gloves are becoming the new travel gear for yogis on the go.
ToeSox, Inc. was founded in 2004 with the launch of its patented Non-Slip Grip sole, and has since grown from a home-based business to selling various styles nationwide and to more than 40 countries. The five toe design of the toe socks allow feet and toes to align naturally aiding in healthy, fit feet. Visit ToeSox™ at http://www.toesox.com or call (877)486-3769.
###