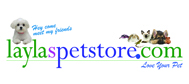 Pet owners, love their pets sometimes as much as their own offspring. They have humanized their four legged friends and continue to purchase products to provide nutritional wellness." Nancyann
Staten Island, NY (PRWEB) July 06, 2011
Michael Barbato and Nancyann announce the launch of Laylaspetstore.com the fun and friendly online super pet store.
Layla, their 3-year-old Maltese dog is the "founder", named as a tribute to the couple's favorite song Layla by Eric Clapton. Layla will have a whimsical voice, courtesy of Nancyann. She'll offer weekly specials, Blog and Twitter regularly and be seen on her Facebook page often, and generally be a real social animal!
Laylaspetstore.com carries a line up of natural and healthy products that deliver quality and low prices. In addition to providing great value, the company has the broadest, deepest product range in the industry, including thousands of products exclusive to Laylaspetstore.com.
Michael Barbato, president of Laylaspetstore.com, said, "Laylaspetstore.com has natural products that are competitively priced. 60% of pet owners have confirmed they would buy natural pet products more often if these products were more affordable Laylaspetstore.com has formulated many of its products to support the health and wellness of all pets. The company is very pleased to be working with the management off all the major brands of pet foods and products." Barbato is a veteran of many years in creative marketing and pet industry marketing.
Nancyann, senior buyer and unique voice of Layla stated, "
"I look forward to sharing Layla's special talent of communicating with everyone through blogs facebook and twitter, Pet owners, of course love their pets sometimes as much as their own offspring. They have humanized their four legged friends and continue to purchase products to provide nutritional wellness."
Unique pet gift baskets will be featured in Pet Product News in the August issue. These gourmet baskets can be designed specially for dogs, cats, birds, fish and small animals. Nancyann has been a gift and accessory buyer and designer for over 20 years and has won several advertising and design awards in her career.
At Clublayla.com Layla's friends and pet owners can join and find exceptional savings and special offers. There will also be games, trivia, and very useful and helpful pet information and articles for the community.
Hiring the company has made several key hires in marketing, sales and the creative department. We are also seeking affiliate partnerships to further the brand where appropriate.
.
Laylaspetstore.com is a leading innovator, marketer and producer of quality branded products for the pet industry. Pet products include cats and dogs, pet bird and small animal food, aquarium products, flea, tick, mosquito, edible bones, treats, cages, carriers, pet books, leashes muzzles, and collars. Layla supervises and is the chief taste tester of all home baked treats.
Please visit the Company's website at http://www.laylaspetstore.com
###