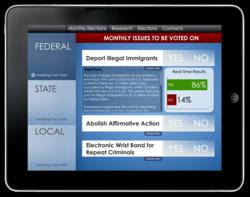 A new monthly online voting system is needed to bring the power back to the American people to get the country back on track.
Los Angeles, CA (PRWEB) July 04, 2011
According to Rasmussen & Schoen (authors of MAD AS HELL) polls show that mainstream Americans, many times represented by the Tea Party, have little or no confidence in the politicians who they feel only represent special interest groups and the financial elite.
"To replace the old politicians with new ones makes little or no difference for America, as the politicians' wrongdoings will merely be repeated, regardless of what party they represent. What needs to change is the system itself, by bringing the power back to the people," says Christian Schoyen, co-founder of the Rasmussen & Schoyen Think Tank and the not-for-profit, non-partisan organization Democracy 2020. He continues, "Democracy 2020 proposes a new democratic system to stop the politicians from destroying America, by giving people the opportunity to vote on all key issues every month using a new innovative online voting system."
Based on a concept from the Rasmussen & Schoyen Think-Tank, Democracy 2020 has designed the prototype for an online solution where voters can log in every month and vote on a researched and prioritized list of current issues in a system where elected officials would no longer have any power, as the majority will rule at all times. In the fully implemented system, endorsed and elected politicians will be under contract to execute the decisions made by the people's majority vote from the online system.
The Democracy 2020 online voting concept will be presented by Futurists Nils Rasmussen and Christian Schoyen at the World Future Conference (http://wfs.org/content/las-vegas-2020) in Vancouver, Canada, on July 8th, 2011. The presentation will be based on a case study for Las Vegas, coined "Las Vegas 2020."
For more info: http://www.democracy2020.com
###