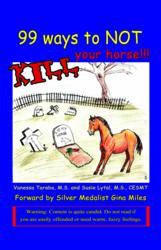 99 ways… is a necessity for those new to horse ownership. -Gina Miles, Olympic Silver Medalist
Pittsburg, TX (PRWEB) July 01, 2011
Authors, Vanessa Taraba and Susie Lytal bring you 99 Ways to Not Kill Your Horse, a humorous, candid, yet very informative book, based on many years of horse experience as professionals. This well written book is designed to educate and entertain those young and old, with all levels of experience with horses.
"99 ways… is a necessity for those new to horse ownership and also a great reminder for those of us that have owned horses longer than we can remember leaning how to read. Do the most important equine in your life a favor and pass this book on to a friend and then give your horse a pat and thank him for going one more day without kicking the bucket." -Gina Miles, U.S. Olympic Silver Medalist
Excerpt from the book:
29. If your horse has a fever, is coughing, or will not eat his food, he is probably sick. Do not ride him. Call your veterinarian!
Seriously … your horse is most likely sick. Call your veterinarian and do not, under any circumstance, ride or exercise him. ..Sounds like common sense, but we have watched more than one horse owner kill their horse this way.
49. A good whoa can save your life.
Put brakes on your horse before you teach him to go forward. A runaway horse quickly becomes a loose horse, as you are catapulted through the air. Or worse, you are on him when he falls down after running through a fence. Not only could a lack of "whoa" kill your horse, it could kill you.
99 Ways to Not Kill Your Horse is available for print, download, as an app in the Android market, and in the iBookstore. Visit the website http://www.99waystonotkillyourhorse.com to purchase and for more information. 50% of the profits from the book will be donated to Southern California Equestrian Sports (http://www.SCESports.org), a non-profit dedicated to, among other things, supporting future equestrian Olympians.
Vanessa Taraba received her Master's Degree in Equine Exercise Physiology and currently manages Northeast Texas Equine Services in Pittsburg, Texas. Susie Lytal received her Master's Degree in Equine Biomechanics and works as a Certified Equine Sports Massage Therapist in Southern California.
###