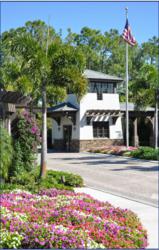 "Our team has been immersed in virtually every area of real estate for decades in Southwest Florida and the Midwest, allowing us to not only solve existing issues, but to anticipate future ones."- Said Wishard
Naples, FL (PRWEB) July 05, 2011
Gateway Encore Resort Management Services, a full service community management firm, has taken over management of Wilshire Lakes, a beautiful private, gated North Naples community.
Gateway Encore Resort Management Services provides premium management and accounting services for Condominium and Homeowners' Associations throughout Southwest Florida.
"We are thrilled to be working with Wilshire Lakes," said Kristine Wishard, President. "It is a lovely community located in the heart of North Naples and offers a stunning entrance with a 24-hour manned gate house."
Situated in one of the most desired school districts in Collier County, this family-oriented community offers a wide variety of upscale estate homes, detached villas, and coach homes in Wilshire Pines and Fieldstone Village.
Enhanced with many lakes, preserves, and meticulous landscaping, this deed-restricted community offers amenities, including a community clubhouse, heated pool and spa, lighted har-tru tennis courts, volleyball and fitness room, nature trails and bike paths.
Gateway Encore provides a wealth of property management experience with more than 100 years of professional expertise in association management, accounting, real estate development, commercial asset management and customer service accumulated among its four principals.
"Wilshire Lakes now has at their disposal much more than an association management firm," said Wishard. "Our team has been immersed in virtually every area of real estate for decades in Southwest Florida and the Midwest, allowing us to not only solve existing issues, but to anticipate future ones."
Kristine Wishard has been in the association management industry for fourteen years. She serves as the President of The Gateway Group in Port Charlotte. Raised in Punta Gorda, Florida, Kristine has recently served as President of the Charlotte County Chamber of Commerce and the Port Charlotte Association of Realtors.
Dwight Penn, has over 30 years experience in community management. He is an industry leader, acting as a charter member of the CAI (Community Associations Institute) in Columbus, Ohio, and serving as its president. Dwight also has a CPM designation and a CAM license in the state of Florida. For 35 years, he and his family have had real estate holdings in Naples.
Mark L. DiSabato began his career in real estate as an agent while in college. He became a broker and worked the next eight years in all aspects of sales, building and management of real estate. For the next three decades, Mark has been directly involved in the land acquisition, zoning, financing, development, management and sales of approximately 15,000 multi-family dwellings.
Rick Armalavage has been involved in real estate activities throughout Southwest Florida since 1978. He started his career as a real estate appraiser and licensed real estate broker, and became noted as an expert in real estate analysis. Over the years, Rick has developed properties, sold properties, and provided advisory solutions for many of the area's most prominent developments. Currently, Rick is active in real estate brokerage, advisory services, management and development.
Each community represented by Gateway Encore is assigned its own management team including a community manager, administrative assistant and accounting staff member. The firm's expertise is currently utilized by communities such as Cordoba, Bonita Village, Olde Marco Inn, Alden Woods, Players Cove, Caldecott and Olé.
Gateway Encore Resort Management Services has offices at 2240 Venetian Court in Naples. For more information, phone (239) 628-1047 or visit the company website at http://www.gatewayencore.com.
###