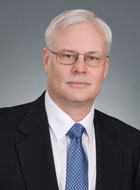 Kevin brings a wealth of expertise in both state and federal litigation in a wide number of areas of practice.
Falls Church, VA (PRWEB) July 07, 2011
Kevin Byrnes is an experienced civil and criminal litigator and has over 25 years of litigation and trial experience in federal and state courts. Mr. Byrnes was first admitted to practice in Massachusetts in 1985 and is currently a member of the D.C. Bar and the Virginia State Bar. He served as a Judge Advocate in the U.S. Navy for five years and as an Assistant U.S. Attorney for another eight years.
Mr. Byrnes focuses on business litigation and employment issues, involving disputes between corporate officers and shareholders, fraud, breaches of fiduciary duty and contract claims, the latter of which include commission, bonus, non-compete and non-disclosure matters. He also handles a wide range of business reputation torts, including internet and traditional defamation and disparagement claims and interference with employment matters. Mr. Byrnes has also dealt with a growing number of technology based torts, such as web scraping and unfair competition claims. He also handles real estate disputes and corporate dissolution matters and has assisted individuals and corporate entities in disputes over leaseholds and purchase agreements.
In addition, Mr. Byrnes has represented federal and state employees in sex, disability and race discrimination cases, internal investigations, and discipline matters, and regarding violations of the Whistleblower Protection Act, the Privacy Act, and the Freedom of Information Act before the U.S. District Courts and both the Federal Circuit and U.S. Court of Appeals for the District of Columbia.
###