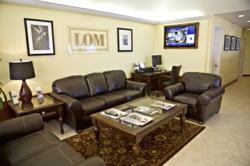 "We wanted to enhance the welcome and departure experience of both locals going abroad as well as leisure and business travellers that bring business to Bermuda."
Hamilton, Bermuda (PRWEB) July 05, 2011
The LOM Group (LOM) announced the opening of the LOM Executive Jet Facility at L.F. Wade Bermuda International Airport. The management of LOM, the Bermuda Aviation Services Limited (BAS), its subsidiary Aircraft Services Bermuda Limited (ASB), the Department of Airport Operations and Minister of Tourism and Business Development Patrice Minors JP, MP were in attendance for the opening of the newly refurbished private jet facility.
LOM's sponsorship of the facility, which is housed in a small Bermuda cottage style building across the tarmac from the commercial airline centre, included the refurbishment of arrival and departure lounges as well as the crew quarters at the private jet facility. Enhancements include new furniture, flooring, computer and printer and a gold coin display. Vendors who assisted in the project include Bermuda Real Estate Consultants, Big Savings Zone, Pembroke Tile, Casual Living, ASVI and MTN Carpentry.
The Masterworks Museum of Bermuda Art will be providing local art work on a rotating basis for display in both the arrival and departure lounges. Currently on display are prints of Ogden Pleissner and Winslow Homer from the Masterworks Collection and the work of local photographer Pierangelo Lanfranchi. Renowned sculptor, Desmond Fountain has also contributed a sculpture to the project.
Michael Greaves, Sales Manager at LOM said, "We wanted to enhance the welcome and departure experience of both locals going abroad as well as leisure and business travellers that bring business to Bermuda."
BAS Chairman, Michael Darling added, "We are pleased to partner with LOM on this worthwhile initiative which we have no doubt will enhance the travelling experience of our patrons."
The LOM Executive Jet Facility services the patrons of more than 2000 private jets that visit Bermuda each year. The Facility remains owned and operated by BAS and its subsidiary ASB.
About LOM
The LOM Group is a publicly-held, international financial services company, providing a complete range of investment services and products through its regulated subsidiaries in Bermuda and Bahamas, including Lines Overseas Management Limited, LOM Securities (Bermuda) Limited and LOM Securities (Bahamas) Limited. In business for nearly 20 years, the LOM Group today has nearly $1 billion in client assets under administration and provides brokerage, asset management, and corporate finance services to its primarily high net-worth individual and institutional customers in over 75 countries around the world. LOM is publicly listed on the Bermuda Stock Exchange (symbol LOM BH). The consolidated group is debt-free and has shareholder's equity of over $18 million.
About BAS
Operating out of Bermuda, BAS is a publicly-held company listed on the Bermuda Stock Exchange, incorporated in 1947. With diverse operations, crossing several business sectors, the BAS Group of Companies consists of: Aircraft Services Bermuda Ltd. (ASB), BAS-Serco Ltd., International Bonded Couriers Ltd. (IBC), Weir Enterprises Ltd., Otis Bermuda Ltd and CCS Group Ltd.
###