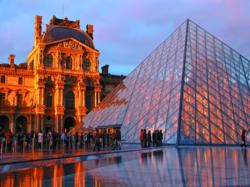 "We are thrilled to branch out to different styles and modes of travel to serve our clientele while maintaining what Smithsonian is best known for—lively and engaging educational content," said Amy Kotkin, director of Smithsonian Journeys.
Washington, D.C. (PRWEB) July 05, 2011
The Smithsonian is known for its broad array of museums and collections, and its travel program follows suit with a diverse travel portfolio for 2012. To meet the demands of today's sophisticated travelers, Smithsonian Journeys offers more options than ever to satisfy diverse interests, budgets and styles of travel and will offer both luxury tours and value tours to appeal to baby boomers.
Travelers can choose from one-week European getaways, in-depth special themed luxury tours, highlights tours to 20 worldwide destinations, around-the-world private jet adventures, U.S. arts and outdoors tours and grand adventures. Smithsonian Journeys is also featuring a broader collection of small- and medium-size cruise ship experiences: luxury and value cruises to the Mediterranean, active expedition cruises, family cruise vacations and unique European river cruises. Travelers who prefer a more private experience can also work with Smithsonian travel consultants for a custom-designed personal vacation to worldwide destinations.
All 2012 travel options can be seen at http://www.SmithsonianJourneys.org/2012, featuring more than 200 departures to 80 countries worldwide. These tours are enhanced with behind-the-scenes access and top experts who provide in-depth commentary designed to increase visitors' understanding of their destination.
"Mercedes-Benz and Bugatti" is a special in-depth themed tour that will feature exclusive entrée to special car museums and factories and a day at the German Grand Prix. Journeys will also offer more than 20 highlights tours, featuring a broad overview of European countries such as France, Spain and Turkey and other destinations farther afield such as Jordan, India, Vietnam, Peru and Botswana. These are small-group tours, designed for 16-24 travelers, and include international airfare, behind-the-scenes activities and the expertise of a Smithsonian expert who accompanies the tour.
In 2012 Smithsonian will offer more than 70 cruises on a variety of small ships with different cruising styles. Featuring a more casual ambiance, small ships encourage new friendships and in-depth time with Smithsonian experts and guest lecturers. Small-ship cruising also means special accessibility to smaller ports, easy logistics, and not overwhelming ports on arrival. Details for all cruises can be found online.

Travelers can sail in the Caribbean on the three-masted tall ship Sea Cloud II, explore the Amazonian rainforest from aboard a traditional 28-guest riverboat or discover superb museums in Holland and Belgium from an elegant European riverboat.
Luxury Mediterranean cruises aboard the 114-guest Corinthian II feature special themes such as music, classical sites and the arts, while the 34-guest Callisto offers an intimate private yacht experience as it plies the Aegean.
Travelers interested in an active cruise experience can board a small expedition ship outfitted with kayaks and Zodiacs to explore the natural wonders of Antarctica, Costa Rica and other destinations.
In the U.S., more than 25 cruises offer the advantages of the small-ship experience, including a new Mississippi riverboat.
Five voyages aboard the 350-guest Aegean Odyssey will offer special value Mediterranean cruises with all-inclusive rates, including international airfare, gratuities and an onboard educational program.
New for 2012 is a bigger focus on European City Getaways for the independent-minded traveler. New "European City Breaks" offer seven-day getaways in European capitals that feature highlights tours balanced with free time for personal interests, all at a great value (starting from $2,749, including international airfare). "City Explorers" offer two-week immersion programs with behind-the-scenes meetings with local experts, exclusive tours, language lessons and time to discover on your own. "Private Departures" is a new personalized travel option where travel experts will design the ideal trip, whatever the traveler's interests, schedule and budget. (Six sample Private Departures itineraries can be found online.)
For the trip of a lifetime, Smithsonian Journeys will offer two new, unique private jet tours in 2012. "Heaven and Earth" (Oct. 31-Nov. 20, 2012) is an exclusive around-the-world adventure that features both natural and man-made wonders and the powerful influence of the heavens on world cultures. A special highlight is traveling with Smithsonian astronomy expert David Aguilar and witnessing a total solar eclipse in Australia. "Cultures and Cuisines" (Sept. 17-Oct. 5, 2012) explores culinary traditions and World Heritage sites from Europe to Asia and is accompanied by culinary expert Darra Goldstein, editor-in-chief of Gastronomica: the Journal of Food and Culture. Details on these extraordinary trips and two others are available online.
Travelers interested in exploring the U.S. on a special Smithsonian theme tour can choose from performing arts tours, outdoor adventures, and an astronomy tour and Civil War tour. All tours provide special access and the insight of a Smithsonian expert.
About Smithsonian Journeys
Smithsonian Journeys is the Smithsonian Institution's travel program, with more than 40 years dedicated to life-enriching experiences worldwide. The Smithsonian is known for "Inspiring Generations through Knowledge and Discovery," which is central to Smithsonian Journeys and its more than 150 expert-led international and domestic tours featuring exclusive access and unforgettable experiences. For more information, call toll-free 1 (877) 338-8687 or visit http://www.SmithsonianJourneys.org.
# # #