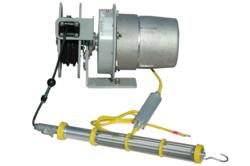 By integrating our most popular explosion proof LED trouble light with a 100 foot Class 1 Division 1 retractable reel, we are providing operators a no-hassle portable LED lighting solution that can be fully installed and utilized within the hazardous area.
Kemp, TX (PRWEB) July 12, 2011
Magnalight.com by Larson Electronics has released a two foot long LED work light designed to exceed the performance and safety of traditional hazardous location fluorescent work lamps. Although almost identical in appearance to drop lights equipped with fluorescent tubes, Magnalights' EPL-FL1524-LED-100-HR work light has a high lumen per watt light output while operating at cooler temperatures than either incandescent or fluorescent drop lights. Magnalight has also included 100 feet of cord along with an explosion proof approved cord reel to make managing this lamps' cord simple and convenient. Approved for Class 1 Division 1 and Class 2 Division 2 locations, this LED work light with cord reel is an excellent solution to cumbersome fluorescent work lights that are easily damaged during rough use and eliminates the accidental burns that occasionally occur when using incandescent drop lights.
With a 15 watt LED tube lamp housed within a rugged aluminum housing, the Magnalight Explosion Proof Aluminum LED Drop Light & Cord Reel provides high light output with good color rendering and excellent durability. An included cord reel constructed of fabricated steel and non sparking aluminum contains 100 feet of SOOW cord and makes managing this unit simple and trouble free. Using only 15 watts of power, the light output of this lamp is comparable to 100 watt incandescent lamps, yet of a much whiter and brighter color. This high light quality is very desirable for operators performing close work and critical inspection duties as there will be none of the yellowing or poor contrast of illuminated objects common with incandescent lamps. Due to the cool operation of the LED lamp, this unit produces little heat, which translates into little chance of receiving a nasty burn should the operators' skin accidentally contact the lamp housing. The LED design of this unit also offers higher durability and reliability than fluorescent work lamps which rely on glass and toxic gases in their construction. Unlike fluorescent lamps, if you drop this lamp on a concrete floor, it will keep on working instead of burning out, or worse, shattering. The LEDs in this lamp are rated at 50,000 hours of operation, far surpassing the operational life of both incandescent and fluorescent lamps alike. Also, there is no ballast in this unit, which translates into lighter weight and no inline ballast to tangle up in the cord while moving about the work space. Included with the unit is 100 feet of SOOW cord contained within an explosion proof rated cord reel. This cord reel is constructed of steel and aluminum for light weight and rugged durability and includes an automatic ratcheting system for easy cord management. Rated for both indoor and outdoor use, the EPL-FL1524-LED-100-HR LED work light provides an ideal lighting solution for hazardous locations that can be mounted entirely within the hazardous workspace for maximum convenience and effectiveness.
# # #