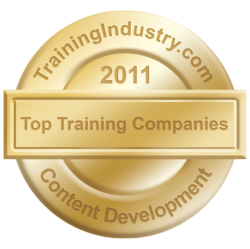 Austin, TX (PRWEB) July 05, 2011
Enspire Learning, a leading learning solution provider, announced today that it has been named to the Top 20 Content Development Companies by TrainingIndustry.com.
This list recognizes the top content development companies in the training industry. This first annual list joins TrainingIndustry.com's current roster of top provider lists, designed to help organizations in their search for the right training partner.
"We're very happy to be listed as a Top 20 Content Development Company alongside such distinguished names," said Ed Garner, Vice President of Custom Development Services at Enspire Learning. "At Enspire, we love what we do and we love working with our clients to produce great learning experiences."
Selection to this year's Top 20 Content Development Companies was based on the following criteria:

Industry visibility, innovation and impact
Capability to develop a broad set of custom training programs across many modalities
Subject matter expertise across topic and industry
Company size and growth potential
Strength of clients
Geographic reach
"I was impressed by the quality and innovation of the companies named to our 2011 list," said Ken Taylor, Chief Operating Officer, Training Industry, Inc. "These top‐notch organizations are leading the way in creating engaging learning programs."
To view the complete list of Top 20 Content Development Companies, visit TrainingIndustry.com.
About Enspire Learning
Enspire Learning provides high-quality, value-creating business training solutions to organizations across the world. Our products, programs, and consultative solutions generate learning opportunities that prepare high potentials for leadership positions, transform individual contributors into managers, and improve employee productivity.
###