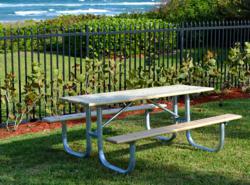 Boca Raton, FL (PRWEB) July 01, 2011
Highland Products Group, a site furnishings company specializing in picnic tables, bleachers, lockers, benches and trash cans, has announced an exciting deal for the fans of their Facebook fan page. All users have to do is log onto the Highland Products Group Facebook fan page and click the "Like" button at the top of the page. This will activate a coupon code that gives fans an instant 5% off of their next purchase from Highland's website, TheParkCatalog.com. The coupon code is already available to users who have previously "Liked" the page by clicking the "5% OFF Coupon" link in the left side bar.
To access the Facebook fan page and receive your coupon, simply log onto Facebook.com/HighlandProductsGroup and click the "Like" button at the top of the page. The coupon code will automatically generate when the page is refreshed. This one time use coupon code can be used on any item in the catalog. Check out this video for more information: http://www.youtube.com/watch?v=VH632nfA0gc
About Highland Products Group
Headquartered in Boca Raton, Fla., Highland Products Group is the fastest growing company focused exclusively on commercial site furnishings, offering over 20,000 items in categories such as picnic tables, benches, crowd control equipment, parking lot supplies, sports equipment, outdoor furnishings, lockers, bleachers, trash cans and more. Highland has served over 50,000 customers worldwide including government agencies, municipalities, educational institutions and commercial facility owners since 2001. Highland's products can be viewed on The Park Catalog or on one of their 75 other websites.
###