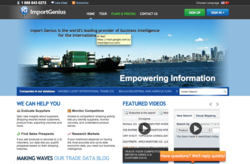 Scottsdale, AZ (PRWEB) July 01, 2011
ImportGenius.com, a leading provider of international trade data, beefed up its service levels this month with new dedicated account managers for all clients, new and old. The company has also added two new customer success team members to help customers find the information they signed up to find.
"We built our web application to be easy-to-use and we still think it is the easiest, most powerful trade data application on the Web," says ImportGenius.com co-founder Ryan Petersen. "Over time we've realized that a little additional training can help some clients get a lot more value from the service."
The two new account managers, Rob Ferris and Andrew Darby, both joined the company in May. They spent several weeks undergoing rigorous training in the history and process of international trade and ImportGenius.com's role in transforming the industry. With that solid foundation for why ImportGenius.com exists, the two moved on to learning the specifics of using the company's search tools to find international trade data.
All new ImportGenius.com customers will get a phone call from their dedicated account manager to set up a training session to help them find the trade data they signed up to find and make sure they understand more advanced ways of searching the company's database. Existing clients have been asked to contact the company to schedule a live training session to make sure they are getting the most out the service.
ImportGenius.com also added two new customer success team members in its Scottsdale headquarters. Both Bryanne Williams and Amber Miller have joined the company to help customers with find data, update their accounts, and maximize the value of the service.
ImportGenius.com's mission is to use the Internet to democratize the world of international trade. By providing supplier research and competitive intelligence tools, the company hopes to level the playing field in the import-export business.
"Trade data offers an incredibly powerful avenue for opening up the world of international trade, but its only as useful as the intelligence that goes into using it," says Mr. Petersen. "We think these new investments in customer service will result in clients getting way more value from our data."
###