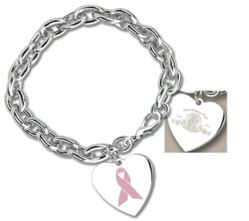 No matter the outcome of the Avastin appeal PromosLogos will continue raising breast cancer awareness
Washington (PRWEB) July 05, 2011
Leading biotechnology company Genentech steps up and urges the Food and Drug Administration (FDA) to give its breast cancer drug Avastin another chance after the FDA proposed to revoke Avastin's approval last December.
As reported by The New York Times, the FDA revoked Avastin's approval on the grounds that new studies did not confirm the drug's effectiveness in treating breast cancer. Avastin manufacturer Genentech intends to broaden the terms by which Avastin can remain available on the market; the company argues that even if the FDA finds the data insufficient to prove that Avastin does help breast cancer patients, the approval for the drug should be retained while Genentech conducts another clinical trial, the results of which could be used in settling the approval dispute. Meanwhile, Avastin has remained available for breast cancer treatment until a decision is made on the appeal.
The Avastin approval appeal has roused debates among women's health issues advocates. While some argue that Avastin's approval as a breast cancer drug should be revoked to make sure that cancer patients receive effective drugs, others maintain that Avastin should be retained as a breast cancer drug, to keep it available to the women who have been helped by it.
Crystal Hanna, 35, a breast cancer patient and a mother of two from West Virginia claims that Avastin has helped keep her illness under control for almost a year. "It's so depressing to think that a federal agency can make a decision that can potentially cause me to die."
It's this freedom of treatment choice that Genentech is fighting for, because though data on Avastin might not show significant impact in helping patients, there are still women who find the drug effective. In turn, Genentech raises awareness on the issue, and these FDA hearings hopefully would be beneficial in determining the effectiveness and reinforcing the criteria on approval of breast cancer drugs and treatment options.
PromosLogos, a family-run promotional items company, recognizes the need for further awareness in the detection and treatment of breast cancer, an illness which affects thousands of families annually in the United States alone. With this, PromosLogos carries a special selection of breast cancer awareness gifts for business, enclosed with which are cards stating that a share of the proceeds has been donated to the National Breast Cancer Foundation.
No matter the outcome of the Avastin hearings, PromosLogos hopes to continue its support for raising breast cancer awareness by making available several products such as the special breast cancer awareness link bracelets, and will donate portions of the sales to various breast cancer awareness organizations.
To learn how you can help raise breast cancer awareness and support the cause through business promotional products, visit http://www.promoslogos.com and browse our catalog of cheap promotional items.
###