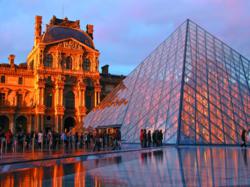 "We are delighted to add these new programs to our portfolio," says Amy Kotkin, director of Smithsonian Journeys. "They provide a great opportunity for those with a limited amount of vacation time to travel and learn."
Washington, D.C. (PRWEB) July 13, 2011
Smithsonian Journeys, the Smithsonian Institution's travel program, has launched a new series of European City Breaks—seven-day tours that combine guided activities and the expertise of a top Smithsonian expert with free time to explore Paris, Madrid or London and the Cotswolds. These value-priced tours to Europe, which start at $2,749 per person, include international round-trip airfare, first-class accommodations, and selected meals. "We are delighted to add these new programs to our portfolio," says Amy Kotkin, director of Smithsonian Journeys. "They provide a great opportunity for those with a limited amount of vacation time to travel and learn." Full details are found at http://www.SmithsonianJourneys.org/city-breaks.
These new European getaways feature a relaxed schedule—with a few select guided tours and the flexibility to follow personal interests—plus the insights of a Smithsonian expert. Organized optional tours are offered for travelers who want more structured activities and the tour manager who accompanies the tour provides support throughout the week. Plus, some meals are included while others are unscheduled to allow a personal choice of culinary and budget interests.
"City Breaks: Paris" (March 21-27, 2012, starting from $2,899), features a full-day orientation tour, including a walking tour of Montmartre and coach tour of the capital's most famous sites, and a half-day highlights tour of the world-renowned Louvre Museum. Travelers can then enjoy time to visit other museums, go shopping, or explore different neighborhoods in the "City of Lights." Or, travelers can choose to spend two free days on optional planned tours to Reims and the Champagne region, or to Versailles and Chartres. Meanwhile a historian enhances the week with insights. More information about travel to Paris can be found online.
"City Breaks: Madrid" (Oct. 20-Nov. 5, 2012 starting from $2,799) features a guided tour of Madrid, including a highlights tour of the Prado Museum, and a full-day excursion to the World Heritage site of Salamanca. Travelers can then choose to explore Madrid further on their own, visiting museums and historic sites of their choice with stops for leisurely lunches of traditional tapas. As an alternative, they can choose to take one or both of the planned optional full-day excursions to the World Heritage sites of Avila and Segovia or Toledo. Throughout the week an art historian offers insight into the art and architecture of the area. More information about this tour to Europe can be found online.
"City Breaks: London and the Cotswolds" (March 16-22, 2012 starting from $2,799) highlights the cosmopolitan energy of London and the charm of the Cotswolds. For two days travelers will enjoy the pastoral English countryside near London with tours to Blenheim Palace, Stratford-upon-Avon, and Oxford. In London, a half-day coach tour provides an orientation to the major sites while a morning highlights tour of the British Museum offers an overview of the impressive collections. The Smithsonian historian enhances the experience with engaging presentations. Travelers then have almost two days to explore London at their own pace, with time for theater, museums, or shopping. More information about this London city break can be found online.
About Smithsonian Journeys
Smithsonian Journeys is the Smithsonian Institution's travel program, with more than 40 years dedicated to life-enriching experiences worldwide. The Smithsonian is known for "Inspiring Generations through Knowledge and Discovery," which is central to Smithsonian Journeys and its more than 150 expert-led international and domestic tours featuring exclusive access and unforgettable experiences. For more information, call toll-free 1 (877) 338-8687 or visit http://www.SmithsonianJourneys.org.
About Smithsonian Institution
Founded in 1846, the Smithsonian is the world's largest museum and research complex consisting of 19 museums and galleries, the National Zoological Park and nine research facilities. There are 6,000 Smithsonian employees, including approximately 500 scientists, and more than 6,500 volunteers. There were approximately 30 million visits from around the world at the Smithsonian in 2010 with more than 188 million visits to the Smithsonian websites. The total number of objects, works of art and specimens at the Smithsonian is estimated at 137 million.
# # #