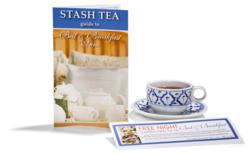 Portland, OR (PRWEB) July 12, 2011
Whether you prefer a quaint New England Inn, Napa and the California Wine Country, or a romantic getaway on the beaches of Hawaii, The Stash Tea Bed and Breakfast Guide is sure to make your next trip relaxing, fun and affordable.
The Stash Tea Company located in Portland, Oregon, has partnered with over 500 Bed & Breakfast Inns to provide consumers with a free night's stay with the purchase of one consecutive night. Featured inns are located throughout the U.S. and Canada.
The Stash Tea Guide to Bed & Breakfast Inns is available for $3.95 when you purchase three boxes of Stash Tea at grocery stores or specialty retailers nationwide, or with any online Stash Tea catalog purchase of $10.00 or more.
The free night certificate is good through June 2013. Some restrictions apply.
Complete details about this promotional offer, a list of participating Inns as well as an order form you can download, are available on the Stash Tea website, http://www.stashtea.com.
Stash Tea prides itself on providing an unmatched selection of superior quality teas and unique tea accessories; the tradition began in 1972 when the company began supplying teas and herbs from an old Victorian-style house. Today, Stash Tea, still headquartered in Portland, Oregon, enjoys steady growth and is one of the largest specialty tea companies in the United States.
Stash Tea uses only pure, 100 percent natural ingredients in its full line of black, green, white, flavored, spiced and herbal teas as well as its specialty iced teas.
Contact:
Megan Rolerkite
503-684-4482, ext. 336
# # #