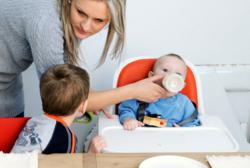 The OXO Sprout Chair exemplifies the thinking that went into each Tot product—value, innovation, and comfort for both parents and kids as they grow.
New York, NY (PRWEB) July 01, 2011
Smart Design is pleased to announce that their work for Cardinal Health and for OXO's new Tot brand has been recognized in the design industry's preeminent awards program, the International Design Excellence Awards (IDEA). Sponsored by the Industrial Designers Society of America (IDSA), the independent, expert jury chose Smart's work to help represent the best of the profession.
A high chair designed for the adult's table:
OXO has now extended Universal Design to our youngest generation with a fully adjustable chair that meets the needs of the widest range of children. A Silver IDEA 2011 winner, the OXO Tot Sprout Chair is an extended use chair that grows with your child from 6 month to 5 years old. It is truly expandable—the seat's height, depth, footrest and tray are all adjustable, providing stability and comfort for children as they grow and long-lasting value for parents. With a mid-century modern aesthetic, it appeals to parents' tastes while meeting tough safety and 'Mom' standards. Neutral colors, clean lines, and elegant wood make the chair a piece of furniture that people want to live with for years.
"We're proud to have helped OXO design their new Tot brand and its strong product line," says Davin Stowell, CEO and founder of Smart Design. "Unlike other brands on the market, OXO Tot was developed with the needs of both babies and parents in mind. The OXO Sprout Chair exemplifies the thinking that went into each Tot product—value, innovation, and comfort for both parents and kids as they grow."
Going from pajamas to performance wear:
For 30 years surgical scrubs have been a low-cost commodity item that are bought, owned, distributed, and laundered by the hospital on a daily basis. Everyone wears them—brain surgeon to staffer. Pajama-like in appearance, they do not reflect the importance of medical professionals' work, nor do they provide real comfort during a strenuous day. Not to mention, 75% of hospital workers in the US are female, but traditional scrubs were designed for an XL man's body.
Cardinal Health saw an opportunity to re-think scrubs from the ground up. Not just the scrubs themselves, but how they could improve the hospital's bottom line. Silver IDEA winner, Cardinal Health Endura Scrubs, are designed to fit both men and women well and bring a level of professionalism and performance to their daily 'uniform'. Smart Design worked with the Cardinal Health team to design them with more comfortable and durable fabrics, which also save energy during laundering.
Smart Design creates experiences that improve people's daily lives. With the success of these two projects, the firm has created substantial impact through design on people's growing famlies and for thousands of professionals in hospitals. In addition to the two Silver awards, Smart had five other Finalists in the competition, including Toshiba Libretto UI and several other OXO products.
In 2010, Smart Design won the IDSA Design of the Decade for their work with Flip Video. Through the years, Smart Design has garnered over 200 awards and honors and their work has been included in the permanent collections of museums worldwide.
# # #