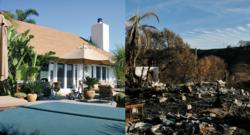 If I had compiled a list prior to my loss, I would have realized I was under insured!
Santa Monica, CA (PRWEB) July 05, 2011
Web Entrepreneur and Founder of DocuHome Home Inventory Solutions Bradford Stanley spoke out on the importance of disaster preparedness in the aftermath of the recent wildfires in Los Alamos, New Mexico. Over 12,500 residents were evacuated and near 100,000 acres have been destroyed in Los Alamos, and the region continues to suffer.
"The tragedy of the ravaging wildfires in Los Alamos cannot be understated, as thousands of homeowners saw the frailty of their homes and possessions. Now, more than ever, it is crucial for homeowners in disaster-prone areas to be prepared for any future devastating events."
Stanley can easily sympathize with the Los Alamos evacuees. After watching his home be devoured by similar wildfires, the disaster preparedness expert is very much acquainted with the unfortunate destructive power of Mother Nature.
"It seems just like yesterday when I lost my Malibu home to wildfires in 2007. The lessons that I've learned from that terrifying day though have shaped DocuHome's mission to help people everywhere prepare for the worst, whenever it may come."
Stanley's DocuHome Home Inventory Solutions, a web-based application that allows homeowners to keep a digital personal inventory of their belongings in the case of a natural disaster, makes the rebuilding process as easy and pain free as possible.
Users upload their own personal photos of their belongings, and then are able to give a price estimate of every item so that if disaster strikes, they can effectively use their digital inventory to make a sound insurance claim.
"If a loss should occur, a DocuHome home inventory can make the difference between an inadequate restoration of your home and its furnishing and gaining all that is rightfully yours from your insurance policy."
To help residents in the New Mexico region, Stanley is offering a free subscription of DocuHome's home inventory software, a savings of $69 per year.
"It is important to for these victims to realize that even though a natural disaster may destroy your homes, it doesn't to destroy your lives as well."
For more information, please contact
Justin Sedgwick
Public Relations Manager
DocuHome Home Inventory Solutions
303-564-6013
jsedgwick(at)docuhome(dot)com
For press images please visit http://www.docuhome.com
See DocuHome on ABC News... "a GREAT idea"
http://docuhome.com/index.asp?action=POPABCVID
DocuHome on AOL Real Estate
http://realestate.aol.com/blog/tag/DocuHome+Home+Inventory+Solutions/
###