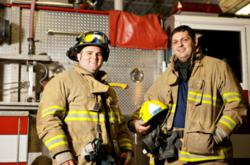 Penflex's partnership with this program is significant, as well as appreciated, as it further demonstrates their commitment to advance the recruitment and retention efforts of the volunteer fire service
Latham, NY (PRWEB) July 01, 2011
Penflex, Inc., an upstate New York professional services firm specializing in Length of Service Award Programs (LOSAPs) for volunteer fire departments and rescue squads, is announcing a $1,000 scholarship, starting next year, to assist prospective college students in Erie County, New York.
The scholarship, named in honor of longtime volunteer firefighter Arthur J. Blachowski, is designed to assist community-oriented students who want to attend college. Preference for the award is given to students who have assisted in emergency services and who are matriculating in the Emergency Services field of fire or EMS. The Scholarship was setup, and will be administered by, the Erie County Fire District Officers who, in the past, have awarded similar scholarships to honor dedicated volunteers throughout Erie County.
"Penflex's partnership with this program is significant, as well as appreciated, as it further demonstrates their commitment to advance recruitment and retention efforts of the volunteer fire service and also re-emphasizes the dedication that Commissioner Blachowski demonstrated to the fire service through his local, regional and statewide involvement in advancing the causes that the fire service stands for," said John Wicka, President of the Erie County Fire District Officers.
Blachowski was a 49-year member of the Hy-View Fire Company and served as Commissioner for 42 years. In addition, Mr. Blachowski was a former Director of the Association of Fire Districts, a past President of the Erie County Fire District Officers Association, a member of the Cheektowaga Democratic Town Committee and former U.S. Army veteran serving his country honorably during the Korean war.
"Arthur Blachowski was one of the most energetic, hardest working people I have ever met in or out of the fire services. His commitment to the Hy-View Fire District, the Erie County Fire Districts Association and the NYS Association of Fire Districts was emblematic of his dedication and passion for the volunteer fire service," said Ed Holohan, President of Penflex, Inc.
"His passion for serving his community was inspiring and he taught me some important and valuable lessons about the volunteer fire service. Most importantly Art often commended and encouraged my efforts in serving the volunteer fire services and helped me stay the course on days when I was frustrated or even discouraged. His dedication to volunteering and serving the volunteer fire service never wavered and that attitude was contagious," he said.
To request more information on the Arthur J. Blachowski Memorial Scholarship contact Mr. Holohan directly by visiting http://www.penflexinc.com; or call 1.800.742.1409.
###