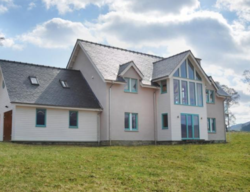 Twenty years of holidays in Scotland, and a further twenty years living in the Highlands of Scotland, have left me passionate about this wonderful and magnificent country. The holiday homes we source reflect this - Wynne, LHH Scotland.
(PRWEB UK) 1 July 2011
LHH (Large Holiday Houses) have always been known for, well, large holiday houses - however, we would like to introduce you to the other side of LHH, Little Holiday Houses. Comfortable, luxurious and cosy, these are just a few of the comments made by individuals, couples, families and groups of friends that have stayed in one of the Little Holiday Homes available across Scotland.
Self-catering cottages are nothing new – 'vacationers' have long since discovered the pleasure, convenience and comfort of a holiday home in their favourite locations. The traditional 'But & Ben' of yesteryear has changed dramatically around Scotland though. No longer a simple stone cottage with the barest of facilities many are now replete with the finest of mod cons - A veritable 'gadget-a-go-go' in some cases. But for the more discernable among holidaymakers you can find similar creature comforts to those already in your own home is enough.
Little Holiday Houses (LHH) caters for those preferring the smaller, but still luxurious, individually tailored, cottage home around Scotland: north, south, east, west and all points in between. From Gretna Green to the Orkneys and Shetland included, in fact, some of the most stunning locations throughout the country. Mountains, lochs, tree lined valleys… wherever your considered break, there is a Little Holiday Home for you and your family waiting to greet you with warmth and a smile. With amazing self-catering cottages, lodges, apartments, crofts and farmhouses there is something for everyone.
Your holiday Choices...
But location isn't always enough and LHH have discovered that the modern holidaymaker wants more – much more, these days. Views outside their window are extremely important but that beauty and comfort needs to be matched inside the home to experience the whole excitement of the vacation. After a long walk in some of the most stunning countryside nothing can relieve the weary, and occasionally cold, traveller than the warm radiating glow of a burning, pre-lit log fire and even a lovely prepared dinner waiting at the table for them.
Whatever your requirement, there is a holiday home out there for you and LHH will try and match it to your chosen location. If home creature comforts are your appeal your advisor will give you a full run down on specific features available at each property within your chosen location, so if your requirement is for Wi-Fi entertainment, Bluetooth technology and a whole host of other gadgetry you will be pointed in the right direction. On the other hand, if you prefer something a little less like your sitting room, perhaps a more rustic and natural abode, this too can be catered for. Some of the homes have log fires or ground source heating for the eco-inclined visitors. Whatever you want, all you have to do is ask
and the friendly staff at LHH will make sure that you are well aware of what is available to you.
LHH offers helpful advice and are only a click or telephone call away and, centred in the Highlands of Scotland, are best placed to answer every question with a wide range of local knowledge and experience at their fingertips.
All homes have their own, individual page outlining every facility and feature, complete with photographs, full descriptions and information. From local amenities such as outdoor adventure sports, guided walks, castles and stately homes and a host of other activities you will be advised accordingly, right down to local cinema and bingo hall facilities. There is nothing that LHH haven't looked at or have experience of that they cannot pass on to the holidaymaker.
Every property is regularly inspected to ensure that the client is offered the very best of accommodation for their winter or summer holiday, weekend break or even honeymoon stay and any other occasion besides. More than that, LHH provides a unique insight into what may be going on in and around the local area at the time of your vacation. Nothing gets in the way of your experience – disabled, child and pet friendly homes are available. LHH even cater for specifics such as allergies. Nothing can be worse than spending your holiday suffering from sneezes or diseases – but a simple chat with one of the advisors and any allergy can be avoided. A change of bed linen, perhaps, for those that struggle with certain fabrics, air conditioning and purifiers to help with clean air… in fact, whatever your allergy experience, you should not have to suffer whilst on your annual vacation.
Catering is catered for...
After an arduous journey on the road maybe you want to relax without thinking about cooking when you arrive? Let your advisor deal with all
and any of those worries. Calling ahead with your nutritional requirements; be you diabetic, celiac, dairy intolerant or any other eating disorder, everything can be catered for, and with local produce sourced secured ready for your arrival. If you have a preference LHH can even organise a fully qualified chef in some cases. Wherever your destination you will always be provided with the flavour of the region in all consumables; be it your taste for a tipple or preference in preserve.
Passionate...
LHH advisors are extremely passionate about their role and even more passionate about you, the holidaymaker. They are not satisfied that your stay was 'okay'; they want your time with them to be a pleasure and an unforgettable experience. Their business is for your enjoyment - the more you 'enjoy' everything about your vacation the bigger your desire to return, and maybe with some special friends the next time you choose
LHH. In essence, LHH are not a run of the mill holiday company they are your entirely bespoke home on location.
Check our full range of Little Holiday Homes here
###