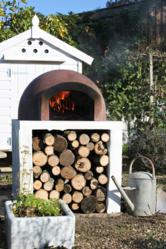 Transform your outdoor space into your very own outdoor kitchen... invest in a wood fired pizza oven, like the Primo.
London UK (PRWEB) July 01, 2011
Having just blinked and missed the UK's longest day (summer solstice), some may think it's now or never to get the garden ready for the summertime. The Stone Bake Oven Company, manufacturers of outdoor and indoor wood fired ovens, prove you can give your garden a makeover in just one weekend, whilst keeping most of your green in your wallet.
Making your garden spectacular on a shoe string can prove to be much more rewarding than simply flashing the cash, and turning it into an outdoor kitchen means you can reap the benefits in many more ways than one. Why not give your garden a complete overhaul and turn into an alfresco dining paradise with these quick affordable tips by the Stone Bake Oven Company.
Simply tidy up. It sounds obvious but the Stone Bake Oven Company says you'll be amazed at how much a trim, a clearing of weeds and a rake up of leaves will transform your garden, invest a couple of active hours and your garden will look better for it.
Go wild for wildlife. Gardens are a great place to sit back and observe, so why not support local wildlife on a shoestring with these simple tips: simply stack a bunch of logs together or leave a damp pile of leaves, this can become home for small mammals and interesting insects. Support birdlife with home-made bird feeders and bird baths.
Recycle. Get a composter to take advantage of free compost, and relocate plants you have fallen out of love with, use recycled old pots, crates or leaky welly boots to create quirky pot plants.
Let your garden give you something back with your own fruit, veggie or herb patch, a great accompaniment to an outdoor kitchen, snip cuttings from your friends and neighbours garden (perhaps ask first) and plant Rosemary, Thyme, Mint, Oregano and more.
Invest in an affordable wood burning pizza oven, by the Stone Bake Oven Company and you could be throwing a pizza party that very weekend! At a fraction of the cost, the Primo Oven arrives ready to use and not only for pizza, it cook roasts, veggies, breads, desserts and more…
To create your own unique kitchen-garden there's even the ability to customise your Primo Oven design to suit your outdoor space, add optional preparation areas or paint it. At last you can utilise those home grown herbs and cook a vast range of wood fired delights. Choosing a wood fired oven may change the way you entertain alfresco forever.
###