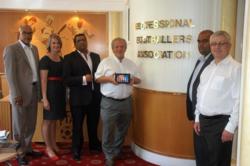 Pictured Left to right : George Berry (PFA Commercial Director North), Susana Meryick (RIM), Chen Kotecha (Scancom), Gordon Taylor OBE (PFA Chief Executive), Tarlaz Dosanjh (Scancom), Jon Kilburn (PFA Director of IT)
(PRWEB UK) 2 July 2011
Early adoption of cutting edge technology draws additional efficiencies and return on investment across all areas of operations for the PFA. Today the PFA have re assigned their wireless communication solutions with their existing provider Leicester based Scancom.co.uk. The PFA has worked closely with Scancom.co.uk to ensure their wireless communication platform is scalable, flexible, secure and meets all the foreseeable requirements.
Research In Motion will launch the PlayBook™ in the UK on 16/06/2011. On the same day the PFA will take delivery of its PlayBooks to accompany its fleet of BlackBerry® devices via Scancom.co.uk. The PFA are one of the first organisations in the UK to deploy the PlayBook™ and take advantage of the benefits this new platform will offer.
Gordon Taylor OBE, PFA Chief Executive said " The PFA is working hard to make the best use of new technology that is also easy to use. I am sure our users will be happy with the PlayBook. We are very happy to be working with Scancom.co.uk and their partners RIM and Orange."
Jon Kilburn MSC, Director of IT PFA commented " The PFA work very closely with Scancom.co.uk. The deployment of the BlackBerry® solution and the forthcoming integration of the PlayBook will provide additional efficiencies for the PFA "
Chen Kotecha ACA, MD Scancom.co.uk said " We are thrilled and excited to continue to work with such a forward looking organisation. The PFA assessed the advantages the BlackBerry® PlayBook and the new 9900 will bring to their workplace in terms of time savings and easy deployment offering new secure ways to communicate "
About Scancom.co.uk
We have always challenged the status quo in wireless communications and encourage organisations to seamlessly integrate new technology thereby allowing them to think different, work smarter and do more in less time. How? Our solutions are elegant, powerful and offer an easy user interface. Scancom's primary partners are Orange and BlackBerry®
Scancom.co.uk is a Tier 1 Orange Principal Partner and a BlackBerry Alliance Elite Member.
Press Contacts:
Kit Kotak
Scancom.co.uk
+44 (0)1162 200 200
kit(at)scancom.co.uk
Head Office
264-266 Leicester Road
Wigston
Leicester UK
LE18 1HQ
NOTE TO EDITORS: For additional information visit Scancom.co.uk press section , or call Scancom.co.uk on +44 (0)1162 200 200.
###