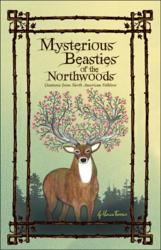 "It is my hope that tales of these Beasties might, once again, be told by the campfire, and that they might bring laughter into every cabin and cottage..."
Boyne City, MI (PRWEB) July 06, 2011
Monica Farrier's new book, "Mysterious Beasties of the Northwoods: Creatures from North American Folklore," features "fearsome critters" and other strange animals from tales told by American cowboys, people of the Ozark Mountains, the lumberjacks in Paul Bunyan's camp, and other storytellers from generations past.
Farrier compiled information from old folklore texts, articles, and papers that she has collected over many years. Drawing inspiration from the natural environment surrounding her home in the woods of northern Michigan, she combined descriptions of each "Beastie," then added speculative details about modern adaptations and behaviors, as well as illustrations to bring the creatures to life.
While many of the Beasties sound ferocious, the effect is more humorous than threatening. Included are such peculiar creatures as Fur-Bearing Fish (whose thick coats keep them warm in cold, deep lakes), the Goofus Bird (which flies backwards), the Hide-Behind (a creature that is always lurking behind trees, waiting to pounce on its prey), the Snawfus (a magnificent deer with flowering antlers), and many more. Also listed is the elusive Snipe, familiar to generations of youngsters who've participated in the ritual "Snipe Hunt" at summer camps.
Readers are urged to beware of one Beastie which poses an imminent threat. The terrifying Luferlang's bite is fatal, but it only bites once each year - on July 12. Those venturing into the woods on that day are encouraged to wear orange and carry a mirror to reduce the risk of an attack.
The creatures chronicled in "Mysterious Beasties" are certain to amuse readers young and old as they bring folklore alive for another generation. The book is intended to inspire laughter around the campfire and may even encourage some readers to head into the woods in search of the critters depicted on its pages.
More information about "Mysterious Beasties of the Northwoods" as well as Monica Farrier's first book, "The Secret of the Cottage Elves," can be found at http://www.mysteriousbeasties.com or call 231/675-5305.
###