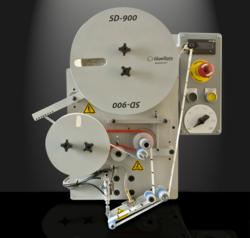 "One of our main goals in creating the SD-900 was to incorporate application flexibility, eliminating the need for advanced programming or additional engineering. The SD-900 reaches and exceeds that goal." Reid Moertl, GDI Industrial Applications Engineer
New Berlin, WI (PRWEB) July 05, 2011
The SD-900 is Applied Productivity™
Glue Dots International (GDI), a leading global manufacturer of pressure sensitive adhesive patterns, introduces the SD-900 adhesive applicator. The SD-900 is a fully automated, inline adhesive applicator engineered to quickly, cleanly, and easily apply Glue Dots Brand Adhesives. Competitively priced versus most hot melt systems, the SD-900 reduces your operating and maintenance cost by eliminating waste and cleaning, and increases worker safety by eliminating the risk of burn injuries.
"The SD-900 development," according to Global Director of Sales and Marketing, Jeff Gunderson, "was steered by data from existing GDI applications in General Packaging, Pharmaceutical/Nutraceutical, Cosmetic, and Printing industries. This valuable data allowed us to develop a new applicator with improved performance in virtually every category."
The SD-900 is engineered to seamlessly integrate into both new and existing automated production lines. Flexible mounting options, including the optional rolling stand, allow the SD-900 to easily adapt to unique application needs.
The SD-900 is designed for continuous and intermittent application in both vertical and horizontal orientations. You never have to worry about complex programming with the SD-900 because automatic speed matching ensures +/- 3/32 inch dot placement accuracy at a rate of 300 applications per minute. Additionally, the number and sequence of Glue Dots being applied can be adjusted instantly via rotary switch. "One of our main goals in creating the SD-900 was to incorporate application flexibility, eliminating the need for advanced programming or additional engineering. The SD-900 reaches and exceeds that goal." Reid Moertl, GDI Industrial Applications Engineer.
To learn more about the SD-900, equipment sales and rental programs, and how the SD-900 can reduce your operating costs and increase worker safety, visit http://www.gluedots.com/SD-900 or contact us directly at 888.688.7131.
Watch the SD-900 in action here>>
About Glue Dots International:
Glue Dots® Industrial products offer a flexible and reliable adhesive solution for a wide variety of applications and markets. Glue Dots® engineered adhesive patterns are available in both removable and permanent formulas in a range of thicknesses for application variations. In addition to the technically advanced industrial adhesives, Glue Dots® supplies everything from a pocket-sized applicator to fully automated inline equipment to make dispensing Glue Dots efficient and economical. Teamed with our dedicated field engineers, we are available to work directly with you or your customer to spec in just the right product for just the right purpose on a global basis.
###