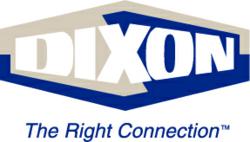 Chestertown, MD (PRWEB) July 02, 2011
Dixon, a leading worldwide manufacturer and supplier of hose fittings and accessories, announces the acquisition of the assets of Northline Coupling Systems, Ltd.
Based in Mississauga, Ontario (Canada), Northline manufactures a variety of water movement products serving the municipal fire industry. Known for their rugged design and long-life performance, these products include aluminum threaded fittings and couplings, Storz couplings and adapters, dry fire hydrants, suction hose, and valve hardware.
Northline's business operations will be run as a division of Dixon, including the existing manufacturing facility in Canada. Moreover, Northline's current staff will continue to participate in business operations.
The acquisition of the Northline product portfolio increases the breadth of Dixon's line of fire control products which are sold through fire suppression, fire protection and industrial distributors.
According to Hazen Arnold, Dixon Powhatan General Manager, the Northline acquisition is part of a long-term corporate strategy to build the most comprehensive, best-quality product resource for the fire industry. Northline will operate under the Dixon Powhatan Division.
"The Northline acquisition delivers major benefits for customers. Our 16 stocking warehouses across North America enable us to deliver parts and components far more quickly than other suppliers," Arnold said. "Plus, we'll continue to serve Northline distributors with a top-quality line of fire protection products from a trusted name in the industry – one of the most complete selections available from a single source," he remarked.
To learn more about the acquisition of Northline, as well as the entire line of fire equipment products available from Dixon, call 800-520-0947 or e-mail your request to harnold(at)dixonvalve(dot)com. You may also view the Northline product catalog on the web by visiting http://www.northlinecplgs.com.
Established in 1916, Dixon is a leading international manufacturer and supplier of hose fittings and accessories. Dixon serves a broad range of industry segments, including the fire prevention and fire suppression fields, by offering the industry's most comprehensive product line available from a single source.
For more information about Dixon products and services for the fire segment, visit http://www.dixonpowhatan.com/index2.php.
# # #