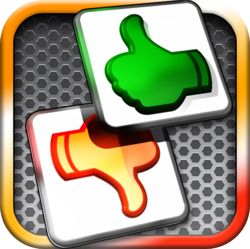 Your Friends Have Voted – What Will you Choose? Decide With VoteItNow!
Wilmington, DE (PRWEB) July 05, 2011
When on the fence about making a major or even a minor product purchase, smart shoppers often turn to their friends and loved ones for an unbiased opinion. But, what are just one or two opinions when compared to hundreds or even thousands? That's precisely the question asked by app developer MyClickapps.com – a question they've answered with their exciting new cross-platform iPhone, Facebook and Twitter app called VoteItNow!
Introducing VoteItNow! – The New Comparison Shopping Hub
Instead of just asking a few friends' opinions on a product directly, the new VoteItNow! iPhone app allows users to instantly search products and post them to their social networking platforms for friend and follower feedback. In just a few minutes, VoteItNow! users will be able to see their social networks 'like' or 'dislike' products, share their opinions and even recommend other products that they prefer to use.
How VoteItNow! Works
To get started, simply download VoteItNow! from the App Store. Those users without iPhones can also take advantage of VoteItNow!'s full functionality directly on the web as well.
Once downloaded, the iPhone app is very intuitive and can be synced up to other social networking accounts for use as a Twitter and Facebook app.
To start comparing products among friends and followers, either enter the product's name, the product's ISBN number or its manufacturing code into the search box. When the product the user is interested in appears, simply click on it to read a full description of the product. To vote on that product, simply click on the thumbs up or thumbs down buttons. In fact, one of the best features about VoteItNow! is that is actually has a "dislike" button – something Facebook can't match.
To find out what friends and followers think of the product, click on the "Ask Friends" button and connect the app through both Facebook and Twitter. A user can even ask a friend to share their thoughts on a product privately via email. Plus, VoteItNow! will be offering up SMS capabilities soon.
VoteItNow! also features a Most Popular section which lists some of the app users most popular product picks including everything from Apple iPads and iPhone covers to Coke Classic, Xbox 360s and the Presto Pizzazz Pizza Oven.
About MyClickapps.com LLC:
Founded in January 2011 by Dr. Muhieddine EL Kaissi, MyClickapps.com is the maker of the VoteItNow!, 1-Click Flashlight, Contacts Duster, A Special Phone, 1-ClIck Mirror and A Blind Call iPhone apps. Dr. Muhieddine has been an IOS iPhone app developer since 2008.
For more information on MyClickApps suite of iPhone apps and social networking products, please visit http://www.myclickapps.com, 'Like' their fan-page here on Facebook or follow them at @myclickapps on Twitter.
###