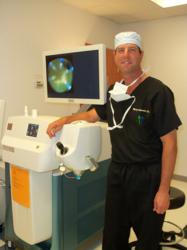 "This is the wave of the future," Dr. Solomon says. "In five to ten years, all surgeries will be done with the laser."
Charleston, SC (PRWEB) July 05, 2011
The first laser in the Southeast, and one of the first in the country, to correct cataracts recently arrived in the Lowcountry. Local ophthalmologist Dr. Kerry Solomon was chosen to be one of the first to use the brand new laser technology for cataract correction – the most commonly performed surgical procedure in the United States.
Because of Dr. Solomon's leadership in the ophthalmology profession, he has been involved in the development of the technology and was asked to use it and offer feedback. The only other four lasers in the United States are currently located in Utah, Texas, Missouri and New York.
The femtosecond laser is developed by LenSx and is the same technology used to perform LASIK procedures. By using a laser for cataract correction, ophthalmologists are able to plan and customize each procedure based on patient anatomy as well as create more precise and consistent incisions.
"This is the wave of the future," Dr. Solomon says. "In five to 10 years, all surgeries will be done with the laser."
Light entering the eye passes through its lens. The lens focuses that light on the retina at the back of the eye. A cataract is a clouding of the eye's lens. A clouded lens interferes with how light passes through it, in much the same way that fingerprints or smears on a window interfere with your view of what is on the other side of the glass. Cataracts affect more than 22 million Americans age 40 and older with more than 30 million expected to have cataracts by 2020.
In the early days of cataract surgery, patients would have to limit their activity for four to eight weeks and they still needed glasses. About 20 years ago, ultrasound technology was introduced and cataract procedures became much more efficient and safer. Plus, the recovery time was shortened to just a few days.
The laser is located at Physicians Eye Surgery Center in Charleston. Dr. Solomon is affiliated with Carolina Eyecare Physicians, which has offices in Charleston, Mt. Pleasant, North Charleston, Summerville, Moncks Corner and Walterboro.
Dr. Solomon has been performing cataract correction surgery since 1990 and has been named one of the "Top 50 Opinion Leaders in the Fields of Cataract and Refractive Surgery" worldwide. Dr. Solomon is also is a leader in the field of LASIK vision correction, having performed the first LASIK procedure in South Carolina. He regularly travels the world speaking about LASIK and cataract procedures.
###