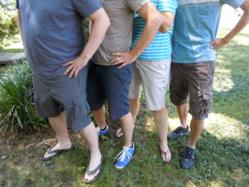 Shorts are a basic form of personal climate control.
Nashville, TN (PRWEB) July 06, 2011
Shorts take up less space in the drawer. They need less laundry detergent. They help prevent rear-knee sweat. Most of all, they're comfortable, and when employees are comfortable, they'll work faster. That's why the Raven Internet Marketing Tools software company dress code is "Business Shorts."
Raven isn't alone. According to the Associated Press and MSNBC, shorts at the office are in style. It's party fashionable and partly practical.
"Shorts are a basic form of personal climate control," said Jon Henshaw, the 6'2" co-founder of Raven. "I have to regulate my body temperature somehow."
In honor of shorts' moment in the sun, Raven is kicking off a Best Business Shorts online photo contest. The contest is open to anyone who can wear shorts to work, and anyone can vote on the entries. (Contestants and voters will need to provide a valid Twitter account to prevent any short-stacking.)
The first-place winner, as chosen by popular vote, will receive a grand prize worth more than $1,200, including a $200 gift card to buy more office clothes and six months of Pro access to the Raven platform. Two runners up, as selected by guest judge Leta Malloy of Career Gear, each will receive a $50 clothing gift card and three months of Pro access to Raven.
The biggest winner is Career Gear, a national nonprofit that helps mentor and update the wardrobes of unemployed men in need. For every person who enters—and every person who votes—Raven will donate $1 to Career Gear, up to $5,000.
What, exactly, are "Business Shorts"? "Business shorts are any shorts that your business allows you to wear to work," said Arienne Holland, communications director for Raven. "It's okay if you own your own business. As for what might constitute the "best," that's completely up to the voters."
The Best Business Shorts photo contest starts on Wednesday, July 6, 2011, and it cuts off on Wednesday, August 24 at 11:59 p.m. CDT. Enter and vote online at http://raventools.com/contests/business-shorts.
About Raven Internet Marketing Tools
Raven Internet Marketing Tools is an online platform that helps users quickly research, manage, monitor and report on SEO, social media and other Internet marketing, including social media analytics. Its collaborative, multi-user features and fast, professional reports make it the software choice of thousands of online marketers worldwide in agency and corporate settings. Raven Internet Marketing Tools, a privately-held Nashville-based company, was founded in 2007.
About Career Gear
Career Gear is a non-profit organization that promotes the economic independence of disadvantaged men by providing professional attire, a network of support and career development tools to help men thrive in work and in life. Career Gear believes that successful employment is a catalyst towards men emerging as fathers and leaders within their communities. Since 1999, Career Gear has helped more than 30,000 men get back to work across the country.
About Leta Malloy
Leta Malloy serves as the Director of Corporate Partnerships at Career Gear. Originally a triple threat performer, Malloy sang, acted and danced professionally around the world before moving into the nonprofit arena. Malloy has spent many years advocating self-esteem, confidence and the power of presentation to young performers as a teacher and judge for dance competitions and pageants. She is fascinated by the concept of business shorts, but does not own a pair.
# # #