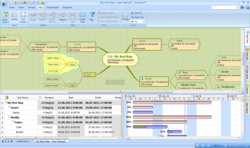 SEAVUS now offers improved way of visual thinking, creative brainstorming and project initiation with DropMind™ desktop and web versions.
(PRWEB) July 04, 2011
With the implementation of Gant chart view in the new v.3.0 desktop, DropMind™ is starting a new chapter in visual thinking. This new feature allows you to enter data as you grow the plan, saving your time later and make sure your plans are as complete as possible. It is suitable for project initiation and enables a more organized view of ideas, suggestions and project goals. With the help of DropMind Desktop v.3.0 you can see individual tasks, their duration, the overall timeline of the project and the expected completion date. After finishing the map you could easily export it to MS Project® for detailed planning.
The new 2.7 web version is concentrated on team collaboration and idea sharing with partners, stakeholders and colleagues. It is possible to work simultaneously on a map, see how the map was built using the timeline slider of changes, which empowers the education process and facilitates the business usage of the application itself.
DropMind™ is software identical to MindManager™ which saves 5 times on individual and 10 times more money on corporate level.
Get more information on the new releases. Visit dropmind.com.
About Seavus
Seavus is a software consulting and development which has over 500 employees dedicated to provide customers with premium services and products. Seavus has 6 offices around the world in Sweden, USA, Macedonia, Belarus, Latvia and Serbia.
As a cutting-edge software development and information technology company, Seavus is committed to partner with its customers to deliver high-quality, effective and reliable solutions to their business needs. Inspired by this customer-driven development process and by using/deploying the latest state-of-the-art technologies, Seavus continues to provide a strong and dedicated focus on quality and customer satisfaction.
The customer portfolio includes organizations such as: IBM, Michelin, Allianz, Bayer, NASA, Volvo, BP, Chevron, BMW, SAP, Lloyd's, Renault, Yamaha, Honda, Lockheed Martin, NATO, DuPont, Fuji, Revlon, Tetra Pak, Toshiba, Sony as well as hundreds of other organizations that have trusted Seavus with their business requirements.
###