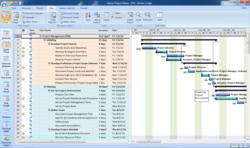 Seavus Project Viewer now supports all MS Project views
(PRWEB) July 04, 2011
Constantly innovating and improving its products, Seavus (http://www.seavus.com) can now offers better and improved functionality of Seavus Project Viewer™ (http://www.seavusprojectviewer.com). It is unique because it supports every view of MS® Project. Having in mind the need for project flexibility Seavus Project Viewer™ v.6.0 also allows import of files from MS® Project Server 2010. Using simple interface users connect to the MS® Project Server 2010 using their credentials and open the necessary project plan. The viewer displays a mirrored view of the project plans exactly as the project manager creates them in MS® Project.
MS® Project Ribbon Interface has also been implemented in in Seavus Project Viewer (http://www.seavusprojectviewer). Features and controls are now easier to find and the tool can be learned and used effortlessly.
In order to boost team's productivity and performance on projects, Seavus Project Viewer™ never stops with its improvements and upgrades.
Visit http://www.seavusprojectviewer.com for more information for Seavus Project Viewer.
About Seavus
Seavus is a software consulting and development which has over 500 employees dedicated to provide customers with premium services and products. Seavus has 6 offices around the world in Sweden, USA, Macedonia, Belarus, Latvia and Serbia.
As a cutting-edge software development and information technology company, Seavus is committed to partner with its customers to deliver high-quality, effective and reliable solutions to their business needs. Inspired by this customer-driven development process and by using/deploying the latest state-of-the-art technologies, Seavus continues to provide a strong and dedicated focus on quality and customer satisfaction.
The customer portfolio includes organizations such as: IBM, Michelin, Allianz, Bayer, NASA, Volvo, BP, Chevron, BMW, SAP, Lloyd's, Renault, Yamaha, Honda, Lockheed Martin, NATO, DuPont, Fuji, Revlon, Tetra Pak, Toshiba, Sony as well as hundreds of other organizations that have trusted Seavus with their business requirements.
###