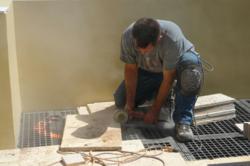 Dry-Laid Stone Tile Pavers over PierdeX® Outdoor Flooring Underlayment System
Saratoga, CA (PRWEB) July 05, 2011
The Pierdex® pedestal flooring system is a leader in new underlayments for rooftop terrace decking applications. Unlike previous systems that rely on the the heavy square paver unit to pass loads to the four corner pedestals, the light-weight PierdeX® panel provides an elevated flooring underlayment that can support materials of varying thicknesses, sizes, shapes and materials.
Similar to the concept of preparing an interior floor to receive a variety of materials, the PierdeX® accomplishes the same for the rooftop terrace. The PierdeX® panels measuring approximately 32" square have an open cell structure and are supported on four corners allowing the flooring to be elevated up to 24" above the finished rooftop waterproofing.
In the case of this California rooftop terrace, a newer poured, stamped concrete roof was failing. Access to the leaks required removing the concrete. Installation of PierdeX® rooftop decking system resulted in two distinct benefits: (1) future access to the waterproofing by simply removing a panel without demolition and complete reinstall of the original material and (2) the option to use a modular paver–pavers of varying sizes–in this case travertine, instead of uniform square pavers.
The PierdeX® Outdoor Floor System™ now makes it possible to use materials previously unusable in a rooftop terrace outdoor floor. Materials such as thin gauged stone or tile, artificial turf, rubber floor mats can all be placed over this durable outdoor floor platform.
###