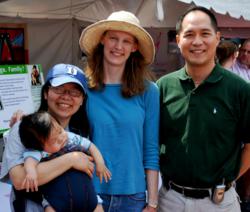 "I think my children have the right to have married parents." GayIVF survey participant.
Boston, MA (PRWEB) July 01, 2011
Results of a survey conducted on GayIVF.com, a Reproductive Science Center of New England (RSC New England) website exclusively focused on assisted reproductive options for gay and lesbian couples, yielded an overwhelming 72% "yes" in response to the question, "Does marriage make a difference for same-sex couples raising children?"
"Marriage absolutely makes a difference. It is public and civic validation of the central relationship in the home," wrote one respondent. Another GayIVF survey respondent offered the perspective that gay marriage is not only a legal right for parents, but children as well. "I think my children (to come) have the right to have married parents," the survey participant stated.
Out of the 89% of survey respondents who described themselves as "partnered", 49% indicated they are already married. (While the survey drew a national and even international response, the Reproductive Science Center is based in Massachusetts where gay marriage has been legal since 2004. Gay marriage is also legal in nearby Vermont and Connecticut). For the 43% of survey participants not married, 75% stated that they do plan to be married in the future. 22% stated they will marry if marriage becomes legal in the state in which they live.
Out of the 67% of GayIVF survey respondents who do not already have children, 98% stated that they do plan to have children in the future. "This certainly corresponds with the anecdotal data we have collected in our conversations with young gay and lesbian couples", states Dr. Samuel Pang, a Reproductive Endocrinologist and Medical Director at RSC New England. (In 1998, Dr. Pang was the first fertility specialist physician in New England to assist a gay male couple in having a baby through the use of donor eggs and a gestational surrogate.)
When asked by what means they planned to have children, adoption was stated by 13% of the GayIVF survey respondents. However, an overwhelming 97% stated that they plan to build their families using some form of assisted reproduction.
Reproductive options for lesbian couples include intrauterine insemination (IUI) with donor sperm. Some lesbians also need ovulation medication assistance.
IUI has been a choice among lesbian couples for decades and those in New England are no exception. Using these techniques, Dr. Kristen Wright, RSC New England's New Hampshire based fertility specialist, participated in helping many lesbian couples become pregnant while she served as Medical Director at the Vermont Center for Reproductive Medicine at the University of Vermont College of Medicine. (Same-sex marriage is legal in Vermont). RSC New England provides services to hundreds of lesbian couples every year.
Reciprocal IVF, a term initiated by RSC New England's Dr. Pang, has also become a popular family-building option. "Reciprocal IVF," explains Dr. Pang, "allows both female partners to share a physical relationship to their child. One partner provides the eggs that are fertilized using donor sperm. Through the invitro fertilization process, eggs and sperm develop as embryos in our laboratory. The resultant embryo or embryos are then transferred to the other female partner who carries the pregnancy and gives birth." http://gaycast.net/video/Reproductive-Options-for-Lesbia#c=6GBTC50ZG3Z3JNY8&t=Reproductive Options for Lesbians [(Video: Reproductive options for lesbian couples). __title__ Video: Reproductive options for lesbian couples]
IVF for gay male couples is also accomplished through IVF using donor eggs and a gestational surrogate. RSC New England has assisted in the medical aspects of this process for 20 male couples, including several from South America and Europe. Several couples have come back to the Center for second and even third pregnancies.

New York state Senate, A8354-2011, Marriage Equality Act
###