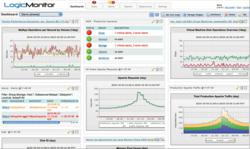 The data center is changing so fast, with new systems being provisioned in a fraction of the time that they once were, that it's hard to keep up. Luckily, with LogicMonitor's automation, you don't have to.
(PRWEB) July 06, 2011
Hosted data center monitoring provider, LogicMonitor, has been named one of the Top 7 Cloud Monitoring Services by Open-tube, a leading IT blog covering telecom, applications, and systems integration. This latest recognition, combined with LogicMonitor's earlier Best of SaaS Showplace Award help solidify LogicMonitor as a leader in simplifying IT management.
The hosted network monitoring tool watches over the entire physical, virtual, and cloud-based data center infrastructure, proactively alerting IT staff to performance issues before they impact end-users.
Staffed with heavy real-world data center operations experience, the Santa Barbara-based company is a strong advocate of delivering monitoring services from the cloud instead of relying on premise-based tools.
"Aside from efficiencies gained from not having to own or manage additional IT assets, a hosted monitoring solution adds a critical layer of redundancy," says Steve Francis, founder and Chief Product Officer at LogicMonitor. "With premise-based monitoring, if a company's network goes down, your entire warning system goes down with it. With LogicMonitor's redundant data center architecture, monitoring remains intact, enabling you to prevent potentially costly business interruptions."
LogicMonitor is one of the few monitoring tools capable of providing a single-pane view of complex multi-vendor data center environments, including NetApp, Amazon, VMware, Citrix, Cisco, F5, SonicWall, HP, Dell, Microsoft, and more.
Managed service providers, hosting providers, SaaS companies, or corporate IT departments interested in LogicMonitor can deploy a fully functioning 14-day free trial at http://www.LogicMonitor.com.
# # #