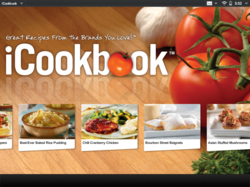 With iCookbook, we started from actual food preparation and worked backwards, looking at what the home cook would need at each step.
Chicago, IL (PRWEB) July 01, 2011
The iCookbook app is now available on the HP TouchPad. The highlight app for anyone who spends time in the kitchen, iCookbook for HP webOS from Publications International includes more than 2,000 recipes from some of the top food brands in the world, and includes features that make it a great sit-on-the-counter meal planning and preparation app.
The unique capabilities of webOS, such as TouchPad's enhanced navigation methods, enabled PIL to add custom experiences to iCookbook. For example, iCookbook leverages a multi-panel view in the "Prepare" display that makes access to information easier and more intuitive.
PIL has been publishing cookbooks for forty years and sells more than 9 million cookbooks each year. Its team of cooking experts have worked for more than a year on iCookbook and developed it from the perspective of a home cook. "We saw when we were creating iCookbook that many of the recipe apps were not well-suited for use in the kitchen. They were simply recipe and meal planners," said Jerry Croft, President of the Cooking Division and Digital Media at PIL. "With iCookbook, we started from actual food preparation and worked backwards, looking at what the home cook would need at each step."
That focus led to several unique features and functions. For example, iCookbook's "Prepare" feature. Once a recipe has been opened in Prepare, it displays in short, large-font steps—the cook can set the tablet down on the counter and read it from a distance. Among other important features, each recipe also includes a high-resolution photo and, because virtually every cook makes their own special modifications or substitutions, a "Notes" section where cooks can individualize recipes with their additions or comments.
"iCookbook is a category leader in this space, and we're excited to have it available as part of our TouchPad launch," said Richard Kerris, vice president of webOS Worldwide Developer Relations, HP.
Additional tools are available to the user, including three built-in cooking timers, a measurement conversion guide, and a chart of substitutions for when you find yourself without a key ingredient. Recipes can be emailed from within the app, or printed with an HP Wi-Fi enabled printer.
iCookbook will be available for $4.99 in the FOOD section of the HP webOS App Catalog and includes more than 2,000 professionally created and tested recipes.
ABOUT HP TOUCHPAD
HP TouchPad is part of a growing family of webOS devices designed to keep people better connected.(1) With webOS, HP TouchPad users have a next-level multitasking experience, integrated access to their information with HP Synergy, the ability to find information on the device or the web using the Just Type feature, and unobtrusive notifications.(2) TouchPad is a productivity powerhouse that also offers access to the cloud and entertainment, including movies, TV shows, games, photos, books, magazines and premium audio playback with stereo speakers and Beats Audio™ technology.(3) More information about HP TouchPad is available at http://www.hp.com/touchpad.
ABOUT PUBLICATIONS INTERNATIONAL, LTD. (PIL)
Founded in 1967, PIL employs more than 400 people and publishes more than 600 titles per year. PIL distributes nationwide and abroad through bookstores, major retailers, club stores, mass merchandisers, magazine newsstands, grocery stores, mail-order catalogs, and direct sales.
PIL headquarters are in Lincolnwood, Illinois with offices in New York; Bentonville, Arkansas; Mexico City; London; Sydney; Madrid; Hamburg; and Shenzhen. PIL publishes with five major divisions (Cooking, Children's, Consumer Guide, Stationery, and General Interest), with all publications and products created, produced, and published by PIL. All divisions operate under PIL with Mr. Louis Weber as CEO.
(1) Internet access within wireless coverage area only. Wi-Fi within range of 802.11a/b/g/n Wi-Fi network. Some Wi-Fi hotspots may require fee for usage. Not all web content may be available. Email and related information required for setup and activation.
(2) Within wireless coverage area only. Microsoft Exchange email, contacts, and calendars available for ActiveSync only; requires Microsoft Outlook using Exchange Server 2003 with SP2, Exchange Server 2007, or Exchange Server 2010.
###