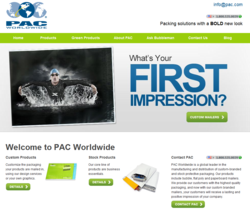 "We are always asking ourselves, 'How can we make protective packaging sexier?'. I think we've hit the nail on the head with this new site. Who knew bubble mailers could be so hot?" – Erin Smith, Marketing Manager.
Redmond, WA (PRWEB) July 05, 2011
PAC Worldwide Corp. is pleased to announce the launch of their newly designed website, http://www.pac.com.
PAC Worldwide is known for their innovative products and customer-focused business model. They've successfully translated this standard to the web by creating a simple, fun, and easy to navigate site that contains a robust portfolio of intuitive features and superb product descriptions. Among these features are a "Let's Talk Packaging" blog, detailed product pages, an "Ask Bubbleman" search feature, informative videos, and multiple ways to contact PAC. Check out PAC's new site by navigating to http://www.pac.com.
About PAC Worldwide Corporation
PAC Worldwide, an industry leader and manufacturer of protective flexible packaging, has built their business up since 1975 based on outstanding service and quality products. This international company specializes in custom branded and stock mailers (bubble, flat poly, paperboard), industrial and retail bubble, security bags, folding cartons and automated bags. They also offer a full line of fulfillment services as well as automated packaging systems for high speed applications.
###