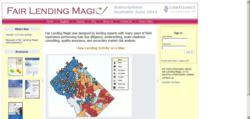 Arlington, VA (PRWEB) July 01, 2011
ComplianceTech announced today the launch of Fair Lending Magic™, a complete online fair lending solution used to effectively monitor against a variety of potential fair lending concerns, including redlining, reverse redlining, steering, disparate treatment, and disparate impact. The new secure web-based interface allows compliance professionals and executives to have access to their institution's fair lending data.
The product was unveiled at the 6th Annual Mortgage Lending Industry Strategic Markets and Diversity Conference in Arlington, Virginia. ComplianceTech was one of the Gold conference sponsors. Nearly 200 attendees participated in the conference and came from a wide range of stakeholders including lenders/servicers, regulators, enforcement agencies, realtors, academia, home loan counseling agencies, civil rights groups and community based organizations.
Fair Lending Magic™ automates compliance and fair lending risk analysis for mortgage, auto and consumer lending data. It helps fair lending compliance managers quickly and efficiently conduct self-evaluations that lead to effective risk management of lending policies and practices. It was designed by lending experts with many years of field experience performing loan due diligence, underwriting, compliance exam readiness consulting, quality assurance, and risk analysis.
Compliance with fair lending requirements has never been more important for financial institutions. With the release of Fair Lending Magic™, the increased scrutiny of lending practices affecting minorities, the elderly and women will be easier for lenders and enforcement agencies. Fair Lending Magic™ is patterned after its desktop cousin Shamus®: The Fair Lending Risk Manager, the first comparative file review software ever invented. The newly-formed Consumer Financial Protection Bureau, which gains its oversight and enforcement authority on July 21, 2011 is expected to focus much of its efforts on preventing discriminatory lending practices and by using data-driven solutions to accomplish this enforcement.
"One priority for the Consumer Financial Protection Bureau is to work to make our policy decisions based on hard data and rigorous analysis," said Patrice Alexander-Ficklin the Assistant Director of Fair Lending for the Consumer Financial Protection Bureau. Speaking to conference attendees, she said, "You at this conference are particularly interested in the use of mortgage data and we look forward to your analysis of currently available data and your thoughts about additional data that might be informative."
ComplianceTech, a lead sponsor of the Mortgage Lending Industry Strategic Markets and Diversity Conference is based in Arlington, VA. The company provides specialized lending intelligence services and innovative software solutions to lending institutions, community organizations and government agencies. The company's software products include LendingPatterns™, Fair Lending Magic™, Shamus®: The Fair Lending Risk Manager, the Racestimator™, The Premium Pricing Analyzer, and LMI and Minority Zip Code Opportunity Maps™.
For more information contact Maurice Jourdain-Earl at jourdainearl(at)compliancetech(dot)com.
# # #