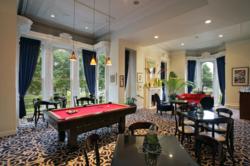 The story of The Mansion's 10 years is actually the countless number of guest stories created with the hotel as a supporting character
Buffalo, NY (PRWEB) July 02, 2011
The contest, run through the facebook page of the historic luxury Buffalo hotel, began on April 28, 2011, with a story submission deadline of June 2, 2011, and the 20 First Round Finalists announced on June 9. The 10 Second Round Winners and Finalists were announced June 30, 2011.
"Thank you so much for this contest. It brought back such great memories...", commented Susan-Mary Foster Eckman, submitter of a story - a sentiment shared by many of the 'story-tellers'. All winners and finalists were selected by the staff of The Mansion on Delaware Avenue, according to Contest Rules, from the entire pool of entrants based on topic, content, and creativity of their entry AND based in part by the number of facebook 'likes' an entry had received.
"We found our guest's emails and letters to be so wide-ranging and attention-grabbing that we thought guest's stories might be interesting to our community as well – and they were – with over 100 story submissions to the contest through emails and our facebook page and hundreds of people reading and voting on the stories," commented Diana Principe, Partner. "The stories submitted were diverse and featured a broad range of experiences. It was extremely difficult for the staff to choose the 20 First Round Stories, and the personal, heartfelt nature of the stories made it a daunting task to choose the 10 Second Round Winners and Finalists."
The 10 Second Round Winners will receive a one-night getaway at The Mansion in a Grand Tier Guestroom including Breakfast in Bed and an extended Noon check-out. Each of the 10 Winners will also be Finalists for the Grand Prize - Private Party for 30 at The Mansion, valued at $3,000.00. The Mansion on Delaware Avenue's award winning Catering Team and Executive Chef, Jen Boye, seen here competing in Buffalo's Nickel City Chef Competition, will create a private 3–hour cocktail and hors d'oeuvre party featuring a menu custom designed by MoDA's catering team, a signature MoDA live musical guest greeting, complimentary parking, and one complimentary Grand Tier guestroom the evening of the event. The Grand Prize Winner will be announced at The Mansion's September 22, 2011, 10th Anniversary '10 Years 10 Stories' Event, featuring the stories of the 10 Second Round Winners.
In developing a much cherished, prominently placed historic Delaware Avenue building from an abandoned, decaying property into an award winning luxury hotel and event facility, The Mansion became a symbol of revival to this section of Buffalo's 'Millionaire's Row', and the Western New York community has felt a personal connection to the hotel's success and national and international acclaim. The Mansion on Delaware Avenue has in turn been a careful steward of this historic property as well as a great supporter of the community: Serving as an exclusive exhibition of original art work in a variety of mediums from watercolor to sculpture from the talents of a wealth of Western New York artists; a virtual gallery with art works conscientiously selected by the hotel's curator, Sandra Clarke, throughout the hotel.…. Collaborating with the regions entertainment, art & cultural sites with packages and promotions…Committing to the use of locally sourced or produced ingredients and products in the hotel's Special Events facilities...collaborating with Visit Buffalo Niagara on a variety of initiatives, including MoDA's inclusion as one of only a handful of Buffalo hotels to take part in the Green Hospitality Initiative, Green and Mean It.
###