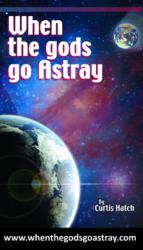 It is difficult to re-educate people who have been brought up on nationalism to the idea of relinquishing part of their sovereignty to a supra-national body. Bilderberg Group founder, Prince Bernhard of the Netherlands
Westminster, SC (PRWEB) July 06, 2011
Independence is the ability to pursue one's own self-interest. Hatch believes that personal independence is essential for a happy and productive society. His new novel "When the gods go Astray" paints a word picture of a society that has lost most of its freedom of choice.
The idea behind the fourth of July is a fit with the story line in the novel "When the gods go Astray." Independence, once lost, becomes more valuable than gold—for many more valuable than life itself. Their challenge is reviving independence they have never known.
The fourth of July is American's Independence Day. The country celebrates its independence from England and continued independence from tyranny. Everyone understands that freedom is tempered by the socially accepted norms. The definition of independence does not change with time; it is the socially accepted norms that change. Over time, a foreign power can infiltrate and influence social norms to the extent a country can be defeated through its own political system. Nikita Khrushchev was Premier of the Soviet Union from 1958 to 1964. He is credited with the warning that the United States would be defeated by communism without the Soviet Union firing a shot. Few understood or believed his threat. Time is proving him right. The move toward socialism is accelerating at an alarming rate.
American society has become desensitized by the constant onslaught of great sounding reasons to surrender its independence. The TSA pat downs are conditioning citizens to humble themselves to the humiliation of having their sexual organs handled by total strangers 'to keep us safe'. There is a myriad of regulations concerning gun control 'to keep us safe'. The streets of many cities, including Clemson, SC, are being lined with cameras 'to keep us safe'. The Patriot Act gives the government the right to warrant less searches and wiretaps 'to keep us safe'. America's government is not about 'keeping us safe'; it is about maximizing control. Each tittle that control increases, independence decreases by a similar amount.
Life is not and cannot be completely safe. Every aspect of life presents a degree of danger. Even if we lived in a glass bubble with everything sanitized, one could always trip and fall breaking one's neck. Hatch believes it is time for Americans to stop being duped about being kept safe and get on with improving life.
George Orwell's "1984,"leaves the reader with a feeling of hopeless despair. Curtis Hatch believes there is always optimism if the fire of liberty and the desire for independence burns in the hearts of determined citizens. It remains to be seen if the fire burns sufficiently or not. If not, slavery is in store for the population of this United States. It might not resort to shackles and chains, but it will be bondage all the same. The degree will no doubt increase over time.
Hatch is passionate about his message. He accepts every opportunity to speak to concerned citizens through the Tea Party, Media, the Internet, and public appearances. He hopes his view of the society in the novel will prompt people to stop and ask a simple question. When is enough, enough? The goal of the novel is to encourage people to question what is happing all around us and to our great democratic republic.
The novel is available at http://www.whenthegodsgoastray.com and amazon.
Mr. Hatch is available for interviews, speaking engagements or guest appearances. He can be reached through Golden Corner Enterprises, LLC.
###