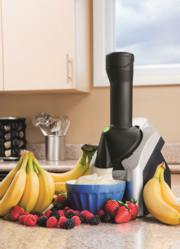 I created the Yonanas Maker to help people enjoy a guilt-free, low cost treat that will make them and their families happy and healthy.
Cleveland, OH (PRWEB) July 06, 2011
America is getting a very cool, healthy and delicious treat this summer with the launch of Yonanas. The Yonanas Maker is a revolutionary new kitchen appliance that takes frozen fruits and vegetables – such as ripe bananas, mangos, peaches, coconut, pumpkin, and strawberries – and creates a creamy frozen treat that looks, tastes, and feels just like soft-serve ice cream.
Beginning in July, the Yonanas Maker will be available at select Target stores and Target.com, on the Home Shopping Network, and on http://www.yonanas.com for $49.99.
A major benefit of this new frozen treat-maker is that fruits and vegetables are waist-friendly, low calorie and loaded with nutrients and vitamins. Anyone can make this delicious summer snack in minutes from the convenience of their own kitchen.
Frozen yogurt and ice cream are filled with calcium, but they are also loaded with calories and sugar. A large cup of "fro-yo" can contain 380 calories and 76 grams of sugar. A large cup of Yonanas offers zero fat, zero cholesterol and contains half the calories of ice cream.
All-natural, Yonanas can be added to breakfast waffles or cookies to add fiber, vitamins, minerals and exceptional nutritional value to any meal. Kids also love the taste of Yonanas – especially when it's frozen into home-made ice pops (Yonanapops). It may taste as though you're cheating, but Yonanas can actually become an important part of your diet and weight loss plan.
The Yonanas Maker includes a recipe book to create an array of decadent flavors: from mint chocolate chip to lemon raspberry, the taste of Yonanas can be as creative or as traditional as your palate prefers. And since the ingredients for Yonanas cost up to 80% less than ice cream and frozen yogurt, this is the most cost-effective, must-have frozen treat of the summer.
"I created the Yonanas Maker to help people enjoy a guilt-free, low cost treat that will make them and their families happy and healthy," says owner and spokesperson Eileen McHale. "It's the perfect low calorie, high fiber choice that kids love and it's packed with vitamins and minerals your body craves every day."
Whether Yonanas helps you fit into your favorite bathing suit or provides you with the best way to get more nutrition into your daily diet, it takes up very little countertop space and creates your favorite frozen dessert in just minutes. The appliance is easy to clean and dishwasher safe.
About Healthy Foods LLC
Husband and wife team, Brian Machovina and Eileen McHale have shared an adventurous and entrepreneurial spirit since they met in high school. A former caterer, private chef, and lactose-intolerant ice cream lover, McHale developed the idea of the Yonanas maker to address her unhappiness with other ice cream alternatives on the market. From launching Yonanas to broadcasting nutrition lessons in schools across the country, sharing delicious and healthy food is central to the mission of Healthy Foods LLC.
# # #