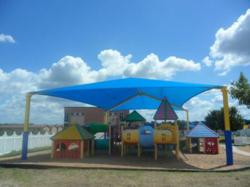 Growing need to protect our children's skin from the harmful sun..cancer awareness
Mooresville, NC (PRWEB) July 01, 2011
Advanced Recreation Solutions is now representing Modern Shade of Austin, Texas.
Modern Shade is a manufacturer of premium engineered shade structures and free standing awing's for use in schools, parks, businesses and back yards. Modern Shade makes playground canopies, bleacher awning, basketball court covers, parks and recreation shade structures, car wash awnings, shade structures for commercial covered parking and carport canopies.
With skin cancer awareness rising, many schools and day care centers are using Modern Shade Structure to protect children playing outdoors; it is a natural fit for Advanced Recreation Solutions the industry leader in synthetic grass playground surfacing installations.
We are very pleased to be a part of one of the largest shade structure manufactures in the US. These outdoor canopies are robustly built to withstand up to 140 miles per hour wind depending on design requirements. The steel frame canopy forms the strength and durability of our structures which is the platform for the breathable fabric canopy.
One of many benefits is car shade, at Modern Shade is committed to offering car cover protection from large hail using high quality commercial canopies secured with HDPE (high density polyethylene). Our awnings are warranted for 10 years, giving you an excellent return on your investment from reduced insurance premiums, cool shaded car viewing areas and hail protection for your car lot and home.
Both companies have the same goal and mission to provide the highest quality shade fabric and steel construction available in the industry. Both companies takes their customers satisfaction to heart, we join together to insure excellence in our products and installation.
Visit: http://www.advancedrecreationsolutions.com
###