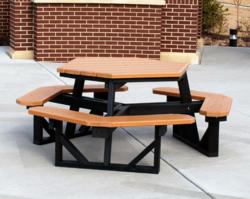 If we stick to our values, we're confident that our products will not only sell on The Park Catalog, but also be part of the product offerings of other market leaders.
Lenexa, KS (PRWEB) July 01, 2011
When Ricky Paradise started Everest Recreation, a commercial site furnishings manufacturer based in Kansas, he anticipated an uphill battle. Opening any business in the middle of an economic recession is difficult, but it is even harder in an industry that relies heavily on public schools, parks, municipalities and other government funded agencies for most of their business. With government spending cuts taking places at both the local and national level, start-ups like Everest Recreation need something more to succeed in this economic environment.
Although Everest Recreation is a relatively new company, they are able to keep up with their larger competitors by focusing on the details and offering things that the bigger companies are unable to. They started by manufacturing unique products, featuring items such as hand-made yellow pine picnic tables and benches that typically take several weeks to build. They followed this up by offering quick shipping on all of their items, even the handmade ones, shipping them out within 24-72 hours.
Now, Everest Recreation has turned to one of the biggest names in the site furnishings industry, Highland Products Group, to help bring their products to a much wider audience by adding the Everest Series product line to their main site, The Park Catalog, along with several of their 75 other eCommerce websites. "Having our products featured on The Park Catalog helps us to market our merchandise in a way that we could not have accomplished on our own. Because of that, we're able to focus on what we do best: manufacturing unique site furniture and shipping it quickly," Paradise said.
The benefit that Paradise is hoping for is no exaggeration. Having the Everest Series products on the Highland websites is the ideal opportunity for Everest Recreation. Not only is Highland's product line great, they are among a small group of premiere companies targeting the commercial site furnishings market. In fact, "If we stick to our values," Paradise explains, "we're confident that our products will not only sell on The Park Catalog, but also be part of the product offerings of other market leaders." Suddenly, that uphill battle doesn't seem so steep.
About Everest Recreation
Everest Recreation specializes in the distribution and quick shipment of picnic tables, benches, barricades, bike racks, message centers and other high quality site furnishings. Their staff of industry professionals and customer service experts will ensure quality and dependability. Their site furnishings are environmentally friendly, commercial grade and easy to maintain. Their product line features everything from hand-made picnic tables, to recycled plastic benches, to hot-dipped galvanized barricades, and everything in between.
# # #