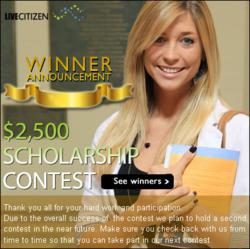 Los Angeles, CA (PRWEB) July 01, 2011
LiveCitizen is pleased to announce that Andrea Puente is the winner of our $2,500 scholarship contest.
Having almost 200 applicants and over 10,000 votes, we are pleased to announce that the $2,500 scholarship goes to Andrea Puente.
Our first and second runners-up and winners of an Amazon Kindle are Jimmie Holland and Mitchell Garrett Gribbroek.
We want to thank everyone for their participation in our first scholarship competition and sincerely wish all of them the best in their future endeavors.
We hope to see you all again in our next contest!
Below we have included the links to our winners' videos:
1. Andrea Puente:
http://www.livecitizen.com/scholarship-application-andreap20/
2. Jimmie Holland:
http://www.livecitizen.com/scholarship-application-jimmieholland/
3. Mitchell Garrett Gribbroek
http://www.livecitizen.com/scholarship-application-mgribbroek2/
###