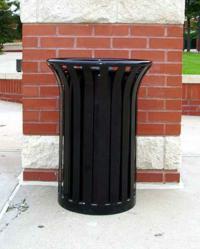 Boca Raton, Fl (PRWEB) July 05, 2011
Highland Products Group is pleased to announce their new line of commercial site furnishings, the Plaza Series. Featuring high quality strap metal park benches and commercial trash cans, the Plaza Series is designed to fit into any setting. The popular design of these site furnishings, along with the variety of color options, makes these products ideal for parks, schools, shopping centers and other commercial locations. These items also ship quickly, and they will be on their way to a commercial location within 24-72 hours.
Unlike similarly built benches and trash receptacles, the Plaza Series' already low prices are even further discounted with the help of volume pricing. "Many of our customers are schools, parks and other commercial locations with large product demands and tight budgets," explains Highland CEO Chris George. "To show our appreciation to these customers, we are offering pricing up to 50% off on some of our most popular commercial benches."
The Plaza Series commercial park benches can already be found on Highland's site, the Park Catalog, and the Plaza Series trash cans are expected to be released in early August.
About Highland Products Group
Headquartered in Boca Raton, Fla., Highland Products Group is the fastest growing company focused exclusively on commercial site furnishings, offering over 20,000 items in categories such as picnic tables, benches, crowd control equipment, parking lot supplies, sports equipment, outdoor furnishings, lockers, bleachers, trash cans and more. Highland has served over 50,000 customers worldwide including government agencies, municipalities, educational institutions and commercial facility owners since 2001. Highland's products can be viewed on The Park Catalog or on one of their 75 other websites.
###