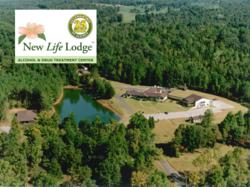 New Life Lodge is a model of outstanding treatment.
Burns, TN (PRWEB) July 01, 2011
Nearly half a million people (485,000) in the state of Tennessee need but do not receive drug or alcohol addiction treatment according to the Substance Abuse and Mental Health Services Administration's (SAMHSA's) National Surveys on Drug Use and Health, 2007 (most recent year of data). In an effort to address this statewide epidemic, as well as the national treatment gap of 24 million Americans, renowned addiction treatment facility, New Life Lodge of Burns, TN, has embarked on several treatment quality enhancement initiatives at the same time as being recognized for their current treatment excellence with a three-year accreditation renewal from CARF International (the Commission on Accreditation of Rehabilitation Facilities).
"We are delighted to receive a renewal of CARF accreditation, and take great pride in the commendations we have received from the CARF organization," said Rebecca Gaskin, LCSW, CAC, MSW, MBA and Executive Director of New Life Lodge, one of just 24 facilities in Tennessee to receive CARF accreditation for integrated drug/alcohol and mental health issues.
"The fact that a half a million people need but do not receive treatment in this state only makes us want to work harder to enhance and improve our client services to ensure that we continue providing the highest level of quality care for those struggling with the debilitating disease of addiction."
For nearly 30 years, New Life Lodge has been providing drug and alcohol addiction treatment services for adolescents and adults and has just completed a $10 million renovation project to increase its capacity. Tennessee Representative David Shepard (69th District), who attended a recent Open House event to celebrate the completion of the expansion, said "New Life Lodge is a model of outstanding treatment. They have gone to great lengths to provide cutting-edge, top-quality services for their patients and we congratulate them on their deserved success."
CARF survey officials noted many existing strengths in New Life Lodge's operations, including its leadership, communication and patient satisfaction. In a letter to the facility, CARF International President and CEO, Brian Boon, Ph.D., wrote: "Your organization should take pride in achieving this high level of accreditation. This achievement is an indication of your organization's dedication and commitment to improving the quality of lives of the persons served." He went on to say that "Services, personnel, and documentation clearly indicate an established pattern of practice excellence."
Licensed by the Tennessee Department of Health and the Tennessee Department of Healthcare Facilities, New Life Lodge adheres to the highest standards of care that incorporate the best practices of decades of experience. Recently, New Life Lodge was among the facilities to be ranked third for overall best practices by the Mental Health Corporations of America (MHCA), an independent member organization that evaluates the best of the best healthcare facilities in the nation.
New Life Lodge has established a nationally recognized reputation and longstanding relationships within the medical and mental health communities due, in large part, to its assembled team of outstanding treatment professionals. To enhance the care they provide, New Life Lodge is one of only six known addiction treatment facilities to be incorporating the client-focused Total Quality Management (TQM) approach coined by the U.S. Naval Air Systems to improve the best practices of clinical care and patient satisfaction levels.
"Already, in just two short months of incorporating TQM, we have increased the percentage of patients who complete treatment to 92 percent, an extraordinary number in this industry," said Gaskin.
In addition, with the growing demand for quality adolescent treatment services, New Life Lodge is partnering with Vanderbilt University, a leading research institution, to enhance its adolescent chemical dependency care and ensure the continuation of the highest quality, evidence-based services possible.
"Drug addiction is a devastating disease that all too often ends in premature death. We feel extremely fortunate to be able to help the situation by turning lives around," said Gaskin.
For more information about New Life Lodge, visit http://www.newlifelodge.com or call 866-836-8125.
# # #