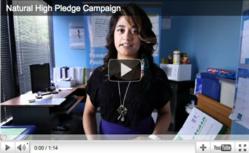 Putting drugs and alcohol in your body only portrays your worst self. I don't want to be around that at all, because I want more for myself.
San Diego, CA (PRWEB) July 01, 2011
If you can't find your voice, change something. For 18-year-old Allura Garis, it was just the matter of finding the right community. Garis found her community while attending the 2010 Vans Warped Tour, a national music fest for teen heartthrobs and the musically charged. It was there she met Natural High®, a drug abuse prevention organization whose mission is to inspire kids to choose a Natural High and reject drugs.
Encouraged by seeing celebrities and teens that chose their passion over drugs, Garis decided to invest the last year of her high school career being a part of the message. She started helping Natural High® with administrative work and creating the "I Choose a Natural High" blog. Time proved her passion for the message was more than just a passing fad. She was asked to share her zeal on San Diego Living Channel 6 News and at her Graduation Ceremony in front of 3000 classmates. "I am so passionate about this message because I know what it's like to be regretful, to be embarrassed and ashamed of the past," Garis said. "Putting drugs and alcohol in your body only portrays your worst self. I don't want to be around that at all, because I want more for myself. I also want more for this next generation of youth. With Natural High's support, I feel like we can become our best when we present our true and drug free selves in all we do." Garis has also spoken at the national Boost Conference, was interviewed on the Zachlee Show, and assisted a Rancho Buena Vista High School Assembly; where over 80% of the 3000 students stood up and took the pledge to live Naturally High. She also managed a completely youth run Natural High® Booth at the Annual Switchfoot Bro-Am Event in Encinitas, California.
Aside from her passion and hard work, Garis also brought to the table her vast network of other trendy and talented youth who are just as ambitious as she is in their Natural Highs and living a drug free life. From Stuck with Pins Photographer, Corinne Alexandra, to Elinn Media Video Producer, Michael Sutliff, and Designs of Kyle St. James, these young entrepreneurs are all contributing their amazing self taught skills to further the Natural High message and bring awareness to the cause. "I'm not willing to take the risk of sacrificing my dreams and life goals for instantaneous pleasures," says Corinne Alexandra. Garis has also gathered a slew of other young friends and fans that are blogging and sharing events, pictures, and videos on the Natural High Facebook Page and other social media channels.
After a year of volunteer work for the organization, young Garis built herself a position. She is now the official Youth Engagement Coordinator for Natural High®, building community off and online in ways only a fellow teen could know how. She has put together the first ever Natural High Pledge Campaign, an idea her and another teen intern came up with. Having just wrapped up a Photo and Video Shoot for the Pledge, she plans to officially launch the campaign this summer at the 2011 Vans Warped Tour, during the Pomona (July 1st), Ventura (July 3rd), San Diego (Aug 9th), and Carson (Aug 10th) shows. The Vans Warped Tour holds close to her heart, as this is where she claims a sticker that said "My Natural High is Music" saved her life. She hopes to make a similar impact this year as she leads a team of eight to all of the Southern California dates.
With Garis's contribution Natural High® is making a deeper impact. "I was amazed watching the pledge video and seeing the meaning of Natural High. I liked how it promoted that we as individuals can get to be extremely happy, or even dream, without consuming any type of drug," said 18-year-old Abe Reveur. Fans on Facebook have quadrupled and tweets about the cause are spreading like wildfire. "Last year I almost lost skateboarding to weed. I never thought it would be so easy to loose skateboarding to a drug, but it was," shared a YouTube Fan, "skateboarding is so much better than hanging around and smoking weed. I can't wait for summer, skating with my friends again, I love it!" Living drug free has never looked so cool, nor had such an effective strategy.
Herein lies the magic, and the difference, of having a young person like Garis as a face for prevention; it's not a paid actor or Parole Officer telling youth not to do something. Teens have someone to communicate with and someone who understands the world they live in. "It's the BEST thing in the whole world when I'm representing Natural High® and kids get that excited look in their face because they see a person just like them that wants a community," Garis shares, "They want another young person to relate to, who is just as passionate about something other then drugs as they are." By showcasing living examples through celebrities and peers, the Natural High® message is shared in a truly inspiring and genuine spirit. By walking the talk, Garis has become not only a successful graduate, but also a role model of the message she so whole-heartedly believes in.
Allura Garis is now available for interviews! For more information about Natural High® visit http://www.naturalhigh.org.
###