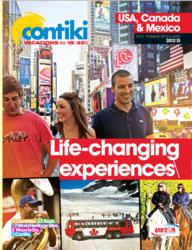 "These trips really give Americans a chance to discover the Contiki experience in their own backyard." - Kelly Camps-Pitre, VP of Operations
Anaheim, CA (PRWEB) July 05, 2011
Today, Contiki Vacations introduces its 2012-2013 USA/ Canada/Mexico brochure, ushering in another exciting season of trips provided by the leader in fun travel packages for 18-35 year olds. Travelers can venture a little further from home with 23 packed itineraries that explore North America, including fan favorites LA to the Bay, Canada and the Rockies, and Mexican Fiesta. Print and digital copies of the brochure are now available at http://www.contiki.com/brochures.
This year, Contiki adds Miami to its exciting lineup of New Year's Eve packages for 2012, which include New York and Las Vegas. Travelers will also find changes to the Grand Northern, North by North East, and Northern Adventure tours, which now include one night in Jackson Hole, Wyoming and the opportunity to experience a hot air balloon ride over Jackson Hole's stunning landscapes. In addition, the Grand Northern and Northern Adventure itineraries will also feature an additional night in Las Vegas.
"We are thrilled to continue offering such diverse itineraries that really showcase the beauty and wonder of the USA, Canada, and Mexico," said Kelly Camps-Pitre, Vice President of Operations at Contiki Vacations. "These trips really give Americans a chance to discover the Contiki experience in their own backyard, whether its whitewater rafting on our Canada & the Rockies tour, discovering the meaning of hospitality on Southern Adventure, or visiting Mayan ruins in the Yucatan Highlights."
Kicking off the brochure launch, Contiki is offering two special promotions, encouraging passengers to book early. The first promotion - valid only for today - encourages travelers to gather four friends and pay the cost of three. The second promotion offers $150 off any itinerary 10 days or longer. The $150 savings is available through July 15, 2011. For more details on other Contiki promotions, visit http://www.contiki.com/deals.
About Contiki
Contiki has inspired 18 – 35 year olds to travel to the world's most fantastic destinations for 50 years. The trips are hassle-free and include the perfect mix of sightseeing, culture and free time. Travelers can choose from over 190 itineraries throughout Europe, Russia, Egypt, Asia, Australia, New Zealand, Mexico, Canada, South America, & the USA. For more information, please visit http://www.Contiki.com.
###