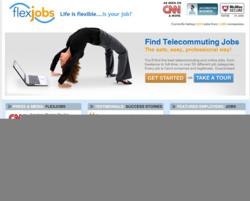 We are thrilled to celebrate July 4th this year with special savings and discounts that support a flexible job search [and] a better work-life balance
Boulder, CO (PRWEB) July 01, 2011
FlexJobs, the leading job service for telecommuting, part-time and flexible job postings has enhanced their innovative service with a new section specifically geared toward savings on quality products and services that complement a flexible work lifestyle. Some of the fantastic companies offering discounts to FlexJobs members include SitterCity, Reputation.com, GoToMyPC, and Tory Johnson's Spark & Hustle, as well as many others, with the discounts ranging from 10% to over 50%.
"We are always looking for new ways to further increase our value and benefits for our job seekers," said Sara Sutton Fell, CEO of FlexJobs. "We are thrilled to celebrate July 4th this year with special savings and discounts that support a flexible job search, a better work-life balance, and other related lifestyle benefits that crossover with our user's general interests."
The new Member Savings section will be adding to the quality resources offered to FlexJobs subscribers, such as expert skill testing, job search tips, and resume building assistance. FlexJobs subscribers have access to the largest database of hand-screened, professional, and flexible job postings. The there are job postings in over 50 career categories, ranging entry-level to executive positions, freelance to full-time, and with jobs across the US.
"Our trained staff of researchers spend a combined 100+ hours a day in finding and hand-screening legitimate telecommuting, part-time, and freelance job listings available," said Fell. "We are also honored to have top companies such as IBM, Forrester Research, VIPdesk, Rosetta Stone, and many others using our service as a trusted place to post jobs and find top candidates."
During the Fourth of July weekend, FlexJobs is offering a month subscription for only $5, a 67% discount, and a year subscription for only $25, a 50% discount. To take advantage of this special Fourth of July offer, use promo code "FOURTH". Every subscription includes a satisfaction guarantee and excellent customer service. To find out more, job seekers should visit FlexJobs.com.
About FlexJobs
FlexJobs is the leading online service for hand-screened and professional flexible, part-time, telecommuting, and freelance job listings. FlexJobs gives job-seekers an ad-free way to find legitimate jobs quickly, easily, and safely. A proud member of the Better Business Bureau, FlexJobs skilled research team provides quality job leads in over 50 career categories, ranging from entry-level to executive, freelance to full-time. FlexJobs is a green, carbon-balanced company which is leading the way to the future of work by promoting telecommuting and flexible jobs that allow people to enjoy work and life in environmentally sustainable ways.
To find out more about FlexJobs, visit http://www.FlexJobs.com.
###